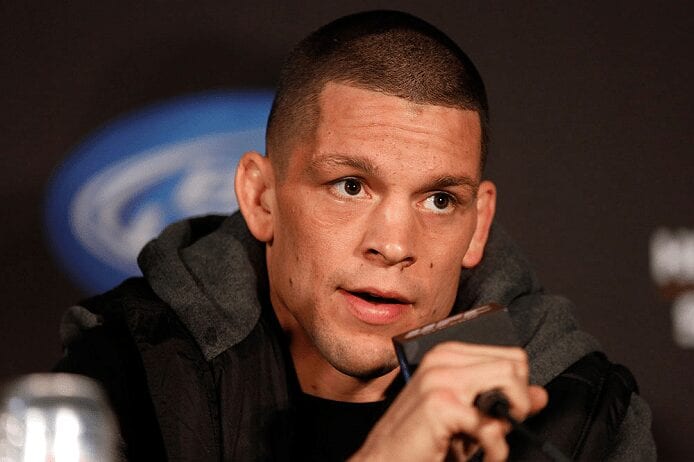 Nate Diaz has been in the news for his rumored bout with Georges St-Pierre this week, and it sounds like the fan favorite is preparing for the fight with some extracurricular activity.
A report from MMAFighting.com this morning stated that Diaz was involved in a confrontation with longtime UFC veteran Clay Guida at last night's Combate Americas 20: Mexico vs. USA from Sacramento, California, with "The Carpenter" supposedly ended up bloodied.
According to tweets posted by former The Ultimate Fighter (TUF) contestant and current Guida teammate Tyler Diamond, Diaz pushed Guida from behind and then slapped him when he got in the middle of the melee:
https://twitter.com/TylerD1amond/status/995180121991528448?tfw_site=MMAFighting&ref_src=twsrc%5Etfw&ref_url=https%3A%2F%2Fwww.mmafighting.com%2F2018%2F5%2F12%2F17347394%2Fnate-diaz-clay-guida-allegedly-involved-in-physical-altercation-at-combate-americas-show
Diamond further explained the logistics of the situation, claiming that he was simply talking with Guida when he got shoved and was then hit by a member of Diaz' entourage when he tried to calm things down:
I was talking face to face with Clay, he got pushed & I saw Nate & about ten other dudes so I stepped up with my arms out trying to descalate the situation & Nate then slapped me while one of his groupies rabbit punched me.

— Tyler Diamond (@TylerD1amond) May 12, 2018
Finally, Diamond issued some trash talk by telling Diaz he "slaps like a bitch" complete with the Stockton superstar's normal choice of hand gesture:
You slap like a bitch @NateDiaz209! pic.twitter.com/DUMP0BwBxe

— Tyler Diamond (@TylerD1amond) May 12, 2018
Diaz was in attendance at the Combate show to support teammate Chris Avila, his longtime training partner who faced Artem Lobov in the UFC at one point.
Guida and Diamond were there to support a different Avila, meanwhile, as their Team Alpha Male compatriot Anthony Avila also competed on the card.
The promotion has reportedly launched an investigation into the situation.