Mirko Cro Cop Returns In 2016 RIZIN World Grand Prix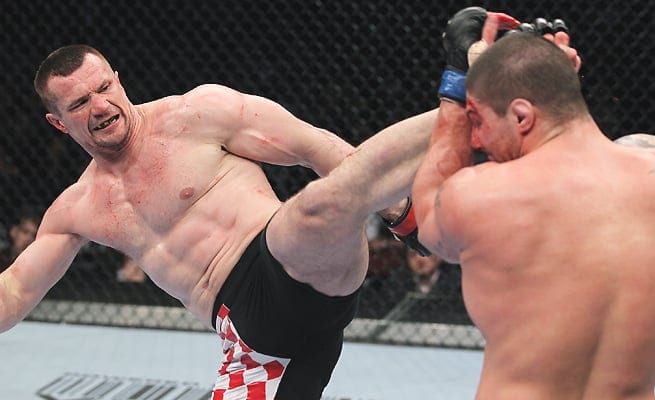 Former Pride open weight champion Mirko "Cro Cop" Filipovic's MMA return has been made official.
After an admittance of using human growth hormone (HGH) last year caused an unceremonious early retirement, Cro Cop will return to action against Hyun Man Myung (3-2) in the opening round of RIZIN Fighting Federation's World Grand Prix 2016 according to a report from MMA Fighting. The event will kick off on September 25, 2016, from the Saitama Super Arena in Saitama, Japan.
The bout will be Filipovic's first since his comeback win over Gabriel Gonzaga in 2014, a fight where he got some sort of revenge for the iconic headkick from "Napao" that stopped Filipovic's perceived run to a UFC title shot.
Former Pride star and UFC veteran Wanderlei Silva is also slated to fight in the second round of the RIZIN Grand Prix, which will feature "The Axe Murderer" against a yet-to-be-named opponent, whom many have speculated will be longtime Pride heavyweight champion Fedor Emelianenko. Fedor made his comeback for RIZIN in their debut show, trouncing grossly overmatched Jaideep Singh by TKO before moving onto to a highly controversial decision win over former UFC light heavyweight Fabio Maldonado in Russian promotion EFN.
However, Cro Cop has gone on record to state that he doesn't believe "The Last Emperor" will actually fight in the Grand Prix.
We'll just have to wiat and see. In the meantime, check out the other matchups of the opening round:
Light Heavyweight Theodorus Aukstuolis (9-3) vs. Heavyweight Szymon Bajor (15-6)
Heavyweight Amir Aliakbari (2-0) vs.Heavyweight Joao Almeida (4-1)
Super Heavyweight Kaito "Baruto" Hoovelson (1-0) vs. Heavyweight Kazuyuki Fujita (15-11)
Light Heavyweight Karl Albrektsson (5-0) vs. Light Heavyweight Valentin Moldavsky (3-0)
Light Heavyweight Jiri Prochazka (17-3-1) vs. Heavyweight Mark Tanios (4-1)