Michael Bisping slams NBA star James Johnson for suggesting he could beat UFC champ Jon Jones in a fight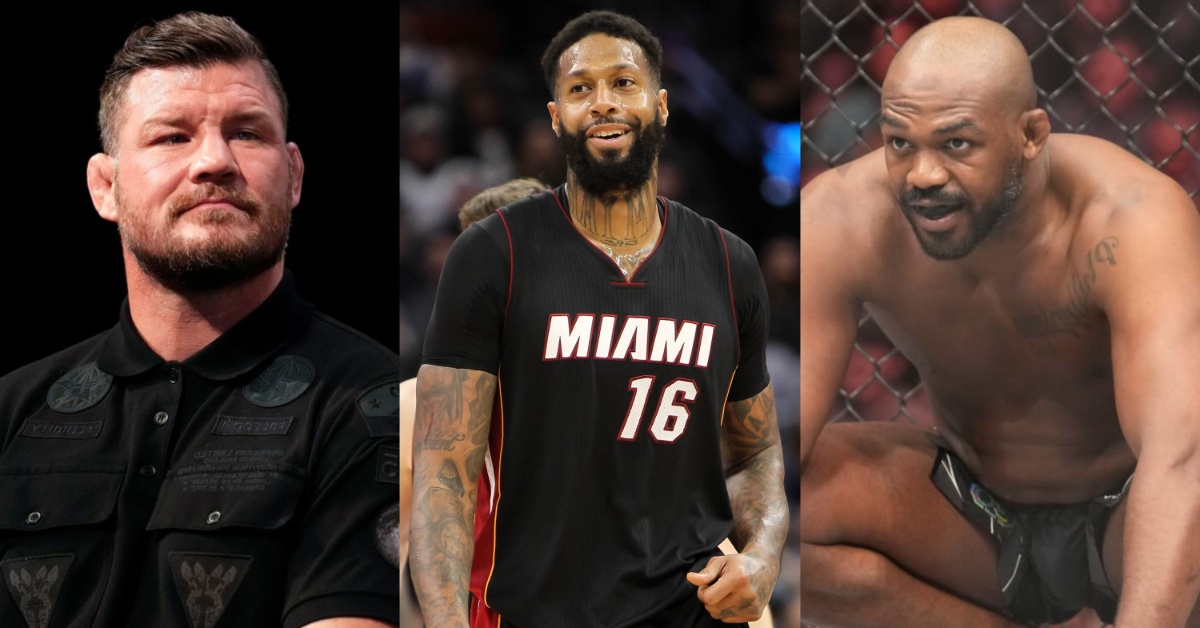 Michael Bisping went off NBA star James Johnson after the 6'8″ behemoth suggested that he could put Jon Jones' lights out with a year of training.
Non-fighters suggesting they could hold their own against some of the best combat sports athletes in the world is becoming a very annoying trend these days. It all seemed to start when bodybuilder Bradley Martyn suggested that he could win a street fight with Nate Diaz. Since then, Martyn has drawn the ire of the MMA community by calling out Alex Pereira, Demetrious Johnson, and Sean O'Malley.
Johnson, an NBA veteran who has played for 10 different teams in his 13-year career, recently suggested that with a year of training to hone his ground name, he could not only survive a fight with the reigning UFC heavyweight champion, but he'd win decisively.
Getting wind of Johnson's comments, Bisping slammed the pro basketball player via a video released on his YouTube channel.
"Give me a year? Give me a f*cking break," Bisping exclaimed. "That's what we really need right here. Listen, this James Johnson, I'm sure he's a lovely guy, I really am. But this is hilarious. We've all watched a martial arts film and at the end, we're all hyped up, we wanna go. We watch Rocky, we start shadowboxing, we think we're a badass. Go down to the pub, have a few beers, think we can take this guy on. The list goes on" (h/t MMA Mania).
'The Count' also called Johnson's claims that he's 7-0 as a mixed martial artist into question, noting that there is absolutely no record backing up his claims.
"I had a little look on Tapology. Tapology registers all fights, okay?" he said. "You don't have to be an NBA player, someone famous, you can be anybody and have one fight and you will be on Tapology. You will be on the Sherdog database. But when I go to Tapology, there's lots of James Johnsons … there's none that are 7-0, there are none that are 6'8". There's none that are basketball players. This guy's having a laugh, he's out of his goddamn mind.
"It's nonsense, it's stupid. This guy's fights can't be found anywhere. Even if he is 20-0 in kickboxing, we all know someone that's a British kickboxing champion or a regional kickboxing champion, and when you look at their fights it's seven people in a sports hall and the opponent was well out of shape and never trained in his life. They get given a big shiny belt and all of a sudden 'They're a champion!'"
Michael Bisping Dubs Jon Jones the Greatest of All Time
Bisping also took issue with Johnson's insinuation that Jon Jones is a ground fighter with little to offer on the feet. A completely ludicrous statement considering 'Bones' has 10 career knockouts and has spent the majority of his UFC run piecing up some of the biggest names in the sport's history.
"Jon Jones is the greatest of all time, Jon Jones is undefeated," Bisping said. "Jon Jones is fighting Stipe Miocic in Madison Square Garden, against the greatest heavyweight of all time … And Jon Jones is a little around the bend. Jon Jones is crazy. He's got that nasty streak in him, and whether you want to criticize him for it … he's put on some amazing fights, and that meanness, that f*cking craziness that he has, that helps you in a fight."
"I'm sure this basketballer has flipped out on the basketball court. I'm sure he's got a real reputation. But you ain't going up against Jon Jones. No way. Stick to your court: the basketball court," he said. "No one's bouncing balls in Octagons. The only thing that's getting bounced is your head all over the place by vicious elbows from Jon Jones when he takes you down with relative ease."
Jon Jones will be back in action at UFC 295 this November as he is set to defend the heavyweight world title against the man many consider to be the division's greatest fighter, Stipe Miocic. The pair will headline the promotion's 30th-anniversary showcase scheduled to emanate from the world's most famous arena, Madison Square Garden.