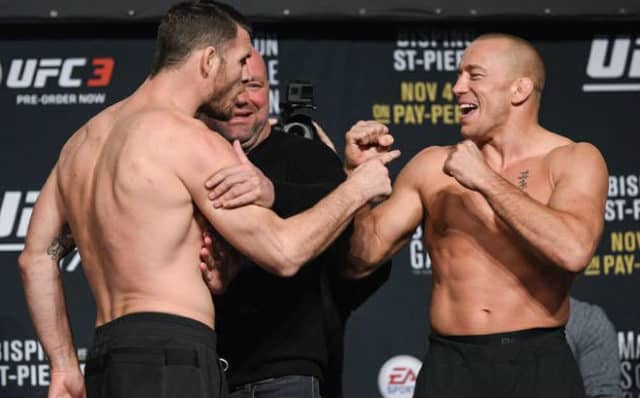 Michael Bisping says young fighters should look at the way that Georges St-Pierre handled his pro-MMA career. This comes after the former UFC middleweight and welterweight champion announced his retirement.
GSP was a true professional who never had any legal issues or personal drama that impacted his legacy as one of the greatest fighters of all-time. The former UFC middleweight champion spoke about GSP recently on his Believe You Me podcast.
There is some history between these two fighters. GSP returned to competition in November of 2017. This was after four years away from the sport to win the middleweight title. The ending of that fight went down with a submission victory in the third round over Michael Bisping at UFC 217.
"It's what I do. He was in there and he took those right hands, it wobbled his brain, he went to the hospital, had a brain scan, right before he choked me out unconscious, he was in a bad way, and he was like, 'I don't want to go through this again,'" Bisping joked (H/T to MMAFighting). "'I don't want to experience the hardship of a fight with Michael Bisping ever again.'

"I just want to say, listen, Georges St-Pierre, absolute legend of the sport. Absolute legend. God bless and good luck in everything that you do from here on out. I always said that Georges St-Pierre was the person that a young fighter should model themselves after. They really should. Always strive to learn new training methods. Training smart, fight smart, professional in and out of the cage."
If you enjoyed this story, please share it on social media!