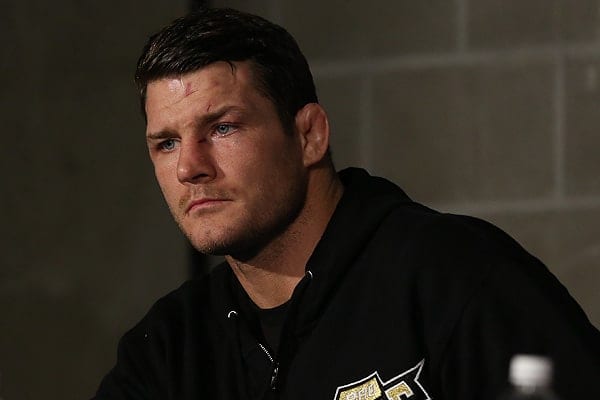 After more than 14 years in mixed martial arts, former UFC middleweight champion Michael Bisping has called it a career.
The brash, outspoken Brit officially announced his retirement on his Believe You Me podcast (via MMA Fighting) earlier today (Mon., May 28, 2018) after speculation believed he would take one final fight before calling it a career. That wasn't the case according to "The Count":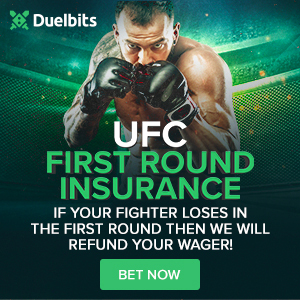 "So obviously I've teased this for a long time now, I might fight again, I might not. And unfortunately it's not a fight that I'm announcing. I am going to announce my official retirement from mixed martial arts."
One of the most successful fighters in UFC history, Bisping dealt with a disappointing streak as of late, losing to rising contender Kelvin Gastelum by brutal knockout at last November's UFC Shanghai only three weeks after Georges St-Pierre choked him unconscious to take the middleweight belt from him at UFC 217.
It was largely thought he would take some time off to regroup and return to any number of retirement fights against names like Vitor Belfort, Lyoto Machida, and Luke Rockhold. But following years of injury to his right eye, "The Count" stated he had begun to see flashes in his left eye after the loss to Gastelum, which understandably had him concerned about his vision:
"I realized there's no flash going on; it's just my eye, and every time I look left, it flashes. And it still does it now when it's dark," Bisping said. "It's light now so I can't see it. So I started freaking out, thinking oh my God, I don't believe this, I've got a detached retina in my good eye. I have problems with my bad eye, it doesn't look good, so obviously I was kind of freaking out."
The longtime veteran will go down as one of the best and toughest combatants the UFC and MMA have ever seen, owning the record for most wins in UFC history, most fights, and most significant strikes landed.
But after doctors said he had a vitreous detachment in his left eye, Bisping reached the decision to retire after watching The Journeyman, a film about a fighter who suffers health issues after taking one fight too many:
"I was watching this movie last night and I just thought, it ain't worth it," Bisping said. "It ain't worth it. I mean, what else am I going to do? I've won the belt, I've had tons of wins, I've done everything that I set out to achieve. What's the point in flogging a dead horse? Not that I'm a dead horse, but what's the point? I've done everything that I set out to achieve, and fortunately now I've used my platform to open other doors.

"You know, you've got to know when to walk away. I'm almost 40 years old, the time is now. So, I want to say, first of all, thank you to my wife. Without her, it wouldn't have happened. That's a fact. She was incredible every single step of the way. My children. My dad. My dad was amazing. And of course everyone in the U.K. and around the world that supported me.

"So, yeah, there you go. Great career. That's that. Thank you everybody."
It was most certainly a great career from "The Count, who debuted in the UFC as the winner of The Ultimate Fighter (TUF) season 3 at light heavyweight.
He then moved down to middleweight and became one of the most consistent competitors at 185 pounds although it seemed like he may never become truly elite after losses in big spots to fighters like Chael Sonnen and Belfort. Bisping proved those doubters wrong in a late-career surge, however, defeating Anderson Silva by a controversial decision and parlaying it into a short-notice title fight against then-champion Luke Rockhold to secure one of the biggest upsets in UFC history by stealing the belt in the very first frame at June 2016's UFC 199.
Bisping then defended the title once against longtime rival Dan Henderson at October 2016's UFC 204.
His manager Audie Attar released a statement to MMA Junkie congratulating his client on a great career:
"Congrats to Michael on a Hall of Fame career," Attar said. "'The Ultimate Fighter' winner, two-time 'Ultimate fighter' coach, winningest fighter in UFC history and first British UFC Champion in history. I've been honored to work with Michael toward the championship years and have watched him fight through trials and tribulations as he was a perennial title contender, ultimately reaching the sport's greatest achievement by winning a UFC championship.

"Through all that, he has achieved the one thing I'm most proud of – how hard he fought for his family's future, risking his life on the line each time he stepped into the octagon. I am proud to call Michael a client, but more importantly a dear friend. Now it's time for Michael to achieve greatness in the next phase of his professional career. The future looks bright, Mr. Bisping. Thank you for all that you've done for our sport!"
It's safe to suggest any true fan of the sport of MMA will wish 'The Count' the same, and we at LowKick MMA wish him the best in all his endeavors.