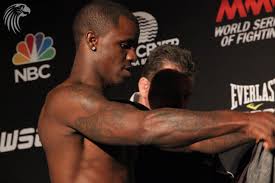 Despite owning the UFC record for most T/KO victories at lightweight with eight, Melvin "The Young Assassin" Guillard doesn't even fight in the Octagon anymore.
The former rising contender was unceremoniously released from the world's biggest MMA promotion when he dropped three out of his last five fights, the latest a one-sided decision to No. 6 Michael Johnson at last March's UFC Fight Night 37 from the United Kingdom.
He quickly found a home with World Series of Fighting (WSOF), dispatching fellow former UFC vet Gesias Cavalcante with a second round TKO at WSOF 11 after he missed weight. It was enough to earn a title shot at undefeated lightweight champion Justin Gaethje, but he ran afoul of the young promotion when he missed weight for the WSOF  bout, forfeiting half of his purse to Gaethje before losing a split decision.
He was scheduled to face Ozzy Dugulubgov at this weekend's (Fri., April 10, 2015) WSOF 20 from Foxwoods Casino in Mashantucket, Connecticut, but news arrived from MMA Junkie today that WSOF President Ray Sefo has been forced to pull Guillard from the card due to "The Young Assassin" not turning in his necessary medicals yet:
"Obviously, we would have liked to have seen Melvin compete at this weekend's event. But it's Monday, four days away from the fight, and we don't have his medicals, nor have we heard from him. He has not responded to any of requests from our PR team to help promote the show, and we alerted his management team that if we did not receive his medicals by 10 a.m. today, we would have no choice but to pull him from the card, and unfortunately, that's what we've been forced to do."
The announcement shouldn't come as much of a surprise, as Guillard recently told Submission Radio that he was extremely disenfranchised by how he was treated by the WSOF after his fight against Gaethje:
"Ali didn't man up and follow his promise, you know right now it's a little bit personal to me. I'm going to let them know how I feel, for when you fuck over Melvin Guillard and not give him what he asked for after he swallows his pride, and takes a fight, and lets them take 50 percent"
Because of that, Guillard was ready to quit fighting for WSOF, which could be part of the reason he didn't take care of his medical or public relations obligations for his fight against Dugulubgov. Used to making UFC money, Guillard said he was forced to make ends meet by working a separate job as a security guard at a strip club:
"I gotta work another job just to try and make it right now. You know what I mean? So that's another reason why I'm ready to part ways with World Series and get back to the UFC or perhaps go to Bellator."
Guillard has clearly burned what will most likely his final bridge with the WSOF today. In his place stepped preliminary card competitor Luis Montoya, who will now battle Dugulubgov. The lightweight match between Nick Newell and Joe Condon was also moved into the co-main event slot.
Guillard wants to fight in Bellator or even return to the UFC. But will they have him?