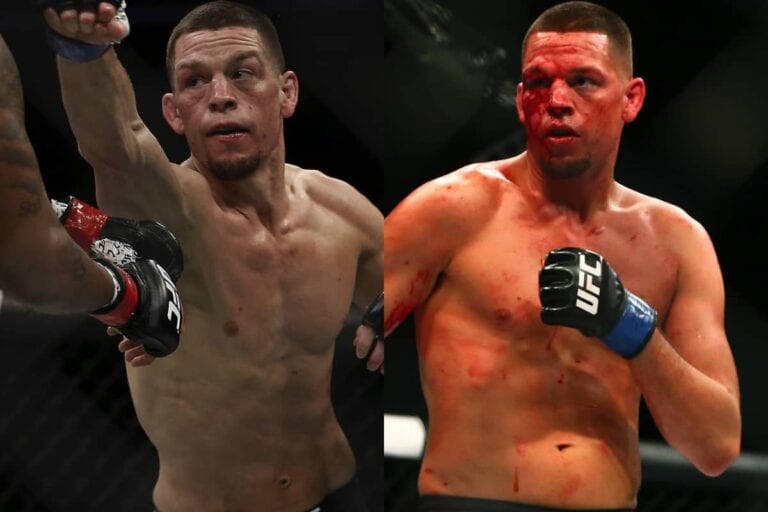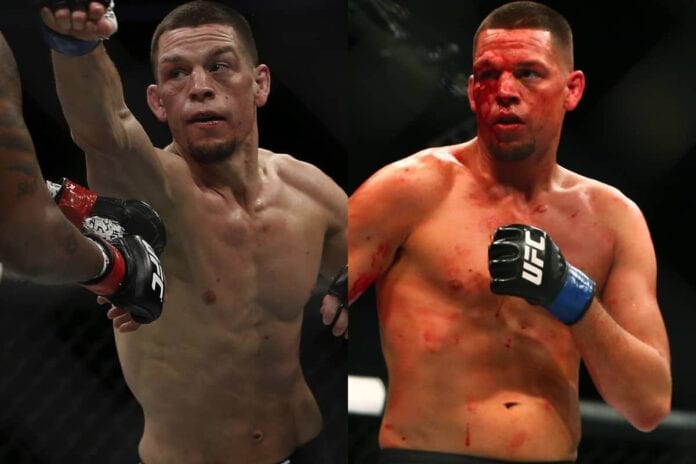 Despite previously being classified as a fighter who doesn't tend to 'move the needle' by UFC president Dana White, Nate Diaz has always been a star, and a fan favorite to say the least.
The Stockton native has been a popular name in the sport for years now, but perhaps his star power has never been as a high as it now. In recent months, Diaz has transformed into one of the biggest draws in the sport, taking his career to an all-new level.
Putting on one of the best interviews in recent memory on a special edition of The MMA Hour with Ariel Helwani yesterday (Wed., May 25, 2016), Diaz spoke on the newfound attention he's been receiving as well as the status of his future.
Expected to return to action in the coming months, it's an interesting time to look back on the lengthy career of Stockton's finest.
Let's take a look at five times that Nate Diaz shined bright.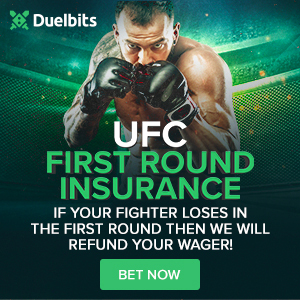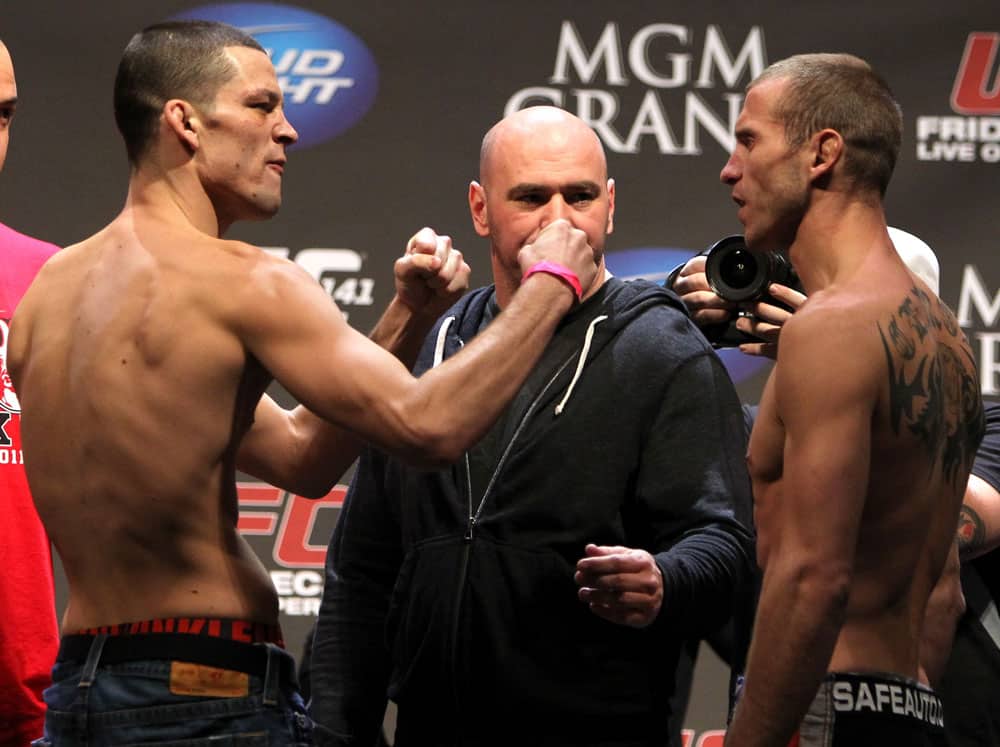 Nate Diaz vs. Donald Cerrone – UFC 141
Taking on fellow fan favorite, and long-time lightweight contender Donald "Cowboy" Cerrone at UFC 141 in December 2011, Diaz would score one of the biggest victories of his career.
With no love lost between the two, Diaz's antics and taunts were on full display, but the fight proved to be highly-entertaining as well, as the scrap actually ended up earning "Fight of the Night" honors.
Diaz used his reach advantage and patented boxing skill set to pick apart and outpoint the Muay Thai oriented Cerrone on route to a very impressive unanimous decision victory.
Owning a win over a name like Donald Cerrone is a magnificent edition to any fighter's resume, and Diaz pulled it off in stunning fashion.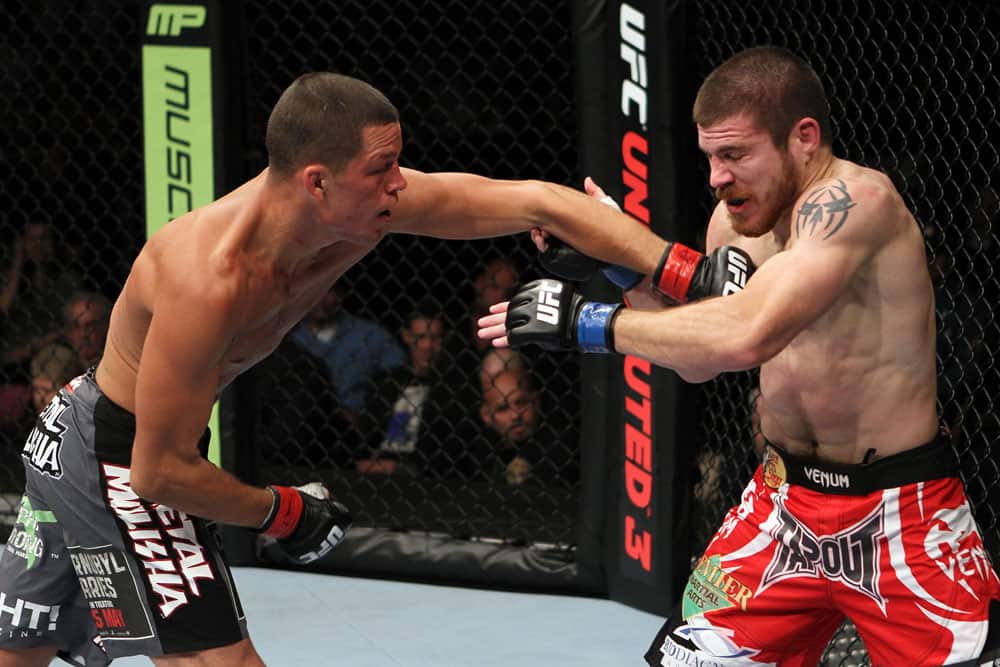 Nate Diaz vs. Jim Miller – UFC on FOX on FOX 3
Aside from his previously noted boxing background, Diaz is also known for his world-class ground game. A black belt in Brazilian jiu-jitsu under Cesar Gracie, the younger Diaz brother owns 13 submission victories to his credit, an impressive feat given the fact that he holds 20 total career wins.
Taking on Jim Miller in the main event of UFC on FOX 3 in May 2012, however, Diaz would face off with one of the lightweight division's very best submission artists, and frankly one of the best submission artists in UFC history.
Miller's background proved to be no match for Diaz though, as the Stockton Bad Boy pulled off a slick guillotine choke in the second round to score a pivotal victory.
This victory, spectacular in its own right, would launch Diaz into a lightweight title fight with Benson Henderson at UFC on FOX 5.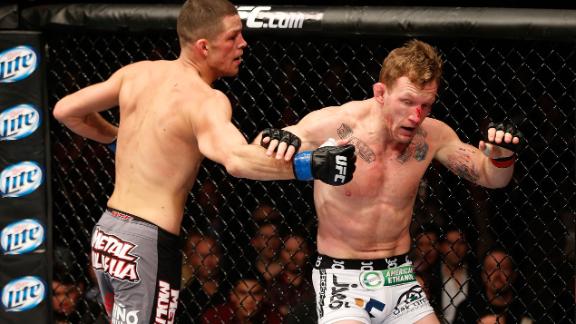 Nate Diaz vs. Gray Maynard – The Ultimate Fighter 18 Finale
Leading up this scheduled rematch with Gray Maynard at The Ultimate Fighter (TUF) 18 Finale in November 2013, there was speculation regarding whether or not Diaz would show up on fight night given the fact that he'd shown interest in attending a high school reunion instead.
Yet the Stockton native was out for revenge after suffering a split-decision loss to "The Bully" back in January 2010.
In the second go-round, however, Diaz would leave no doubt in the outcome, taking matters into his own hands. Just minutes into the first round, Diaz would land a barrage of punches that pinned Maynard up against the fence before landing a few final blows that would put "The Bully" away for good.
After suffering back-to-back losses, Diaz bounced back in terrific fashion, scoring one of the very best knockouts of his career.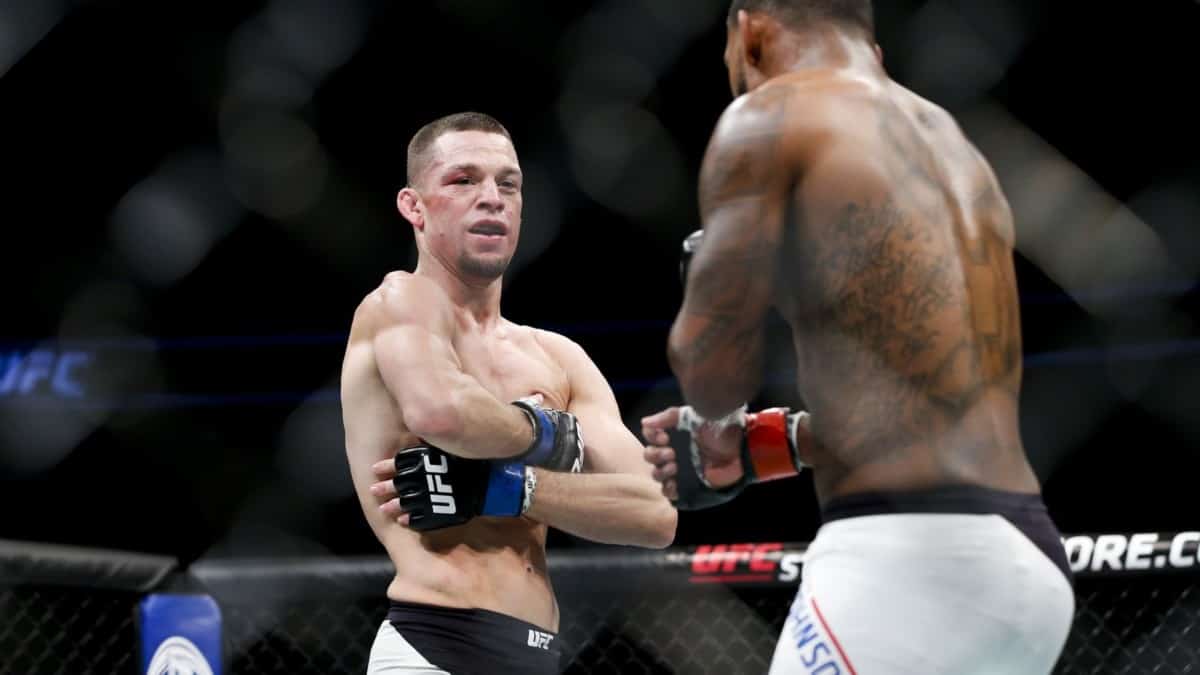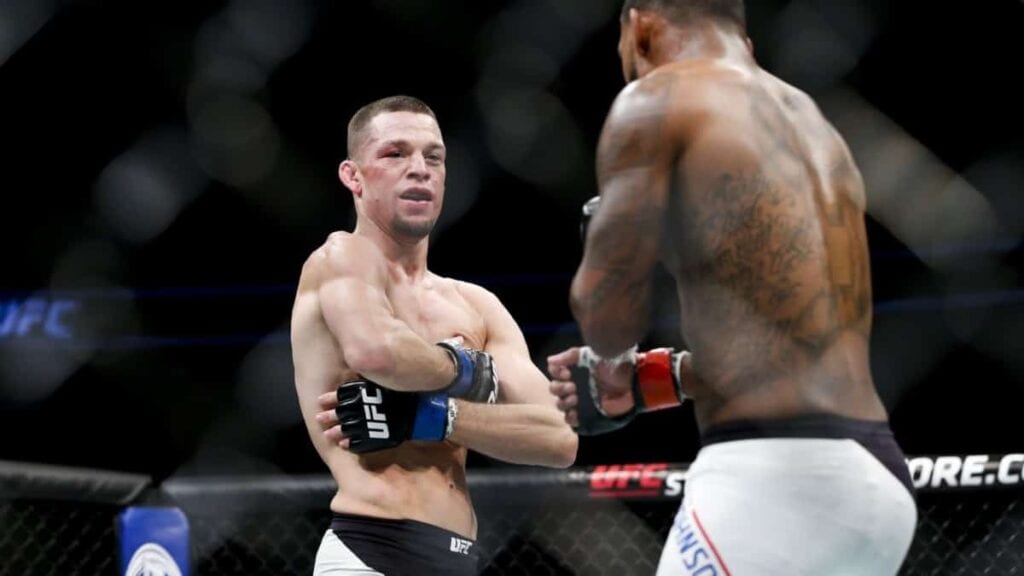 Nate Diaz vs. Michael Johnson – UFC on FOX 17
After spending just over a year on the sidelines after suffering a brutal decision loss to current champion Rafael dos Anjos in December 2014, Nate Diaz returned to action in December 2015 to meet highly-ranked lightweight contender Michael Johnson at UFC on FOX 17.
Due to his long layoff as well as Johnson's previous success, many were counting the Stockton native out of this bout.
The masses expected the "Menace" to use his combination of speed, power, and wrestling to control Diaz, but the outcome proved to be the complete opposite.
Known for always being in top condition, Diaz showed up in arguably the best shape of his career, and ultimately battered Johnson for the course of three rounds with an insane amount of volume strikes.
Not only was this one of the best performances of Diaz's career, but it was by far one of the most vital, as this victory would catapult the former title challenger into undoubtedly the biggest moment of his career…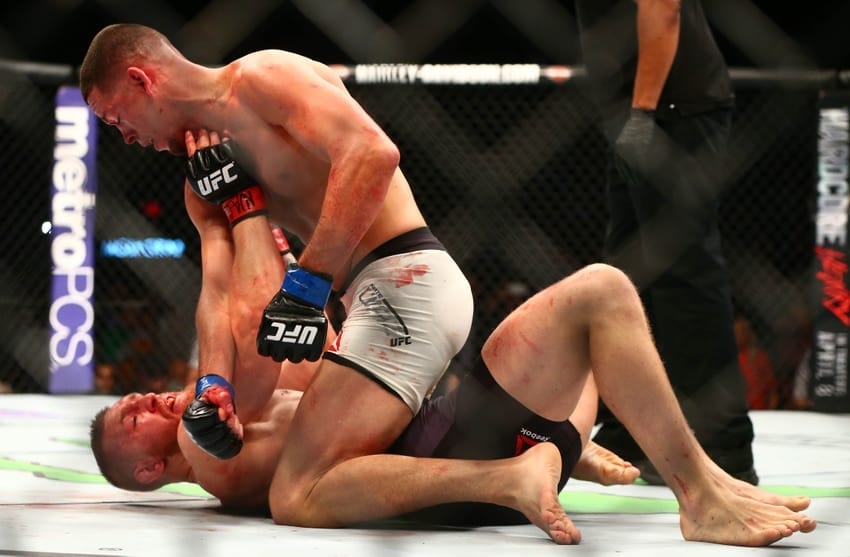 Conor McGregor vs. Nate Diaz – UFC 196
Reigning UFC featherweight champion the "Notorious" Conor McGregor was slated to move up in weight to challenge 155-pound kingpin Rafael dos Anjos for his lightweight title in the main event of March 5's UFC 196 from Las Vegas, Nevada.
Unfortunately for fight fans, dos Anjos suffered an injury that would force him out of the bout just over a week before it was set to go down, but as a result, fans were treated to one of the biggest fights in sport history.
Nate Diaz would step up on extremely short notice after vacationing in Mexico to clash with the Irish phenom in a welterweight bout for the ages.
The Stockton Bad Boy had campaigned for a bout with McGregor after his win over Johnson, and he had received just what he had asked for, and once again, he turned the MMA world upside down with his performance.
Despite the unusual circumstances, many had expected McGregor to get the job done, or at least many hadn't expected Diaz to perform like he did on such short notice.
However, Diaz came in and used his size, range, and boxing to eventually pick McGregor apart. In the second frame, he turned it up a notch, rocking the Irishman before showing off his world class jiu-jitsu skills and locking in a beautifully executed rear-naked-choke to seal the deal.
Over 20 fights into his UFC career, it's safe to say that Nate Diaz has never shined brighter than he did on that shocking night in Sin City.
Will he be able to repeat history when he and McGregor inevitably meet in their highly-anticipated rematch?