Arguably the best pound for pound amateur wrestler in the world today is the great Kyle Dake. A 4x world freestyle champion and 4x NCAA world champion, who isn't done adding to his impressive legacy.
| | |
| --- | --- |
| Name: | Kyle Dake |
| Birth Name: | Kyle Douglas Dake |
| Date of Birth: | 25 February 1991 |
| Place of Birth: | Ithaca, New York |
| Nickname: | N/A |
| University: | Cornell University |
| Weight: | 163 lb (74 kg) |
| Olympic Team: | United States of America |
| Championships: | 4x World Freestyle Champion, 4x NCAA Champion, 2x Pan American Champion |
Here's what you need to know about Kyle Dake. Going over his incredible career(so far) and going over how he's becoming an all time great.
Kyle Dake's Early Years
Kyle Dake grew up in Ithaca, New York and has been a wrestler for the majority of his life. He started his training at an early age and had a laser-like focus on developing his skills.
From the moment Dake began competing, he would be successful at the sport. Winning various junior level competitions and competing in both folkstyle and Greco-Roman style wrestling.
Before college, his focus was more on the Greco-Roman style. Winning the FILA USA Championship in 2008, as well as a finalist three times prior and US Team Trial finalist. He would also place fourteenth at the Greco-Roman Junior World Championship.
But even though Dake's focus was Greco-Roman, he excelled more at folkstyle. Never losing a folkstyle match in high school and winning multiple New York state championships.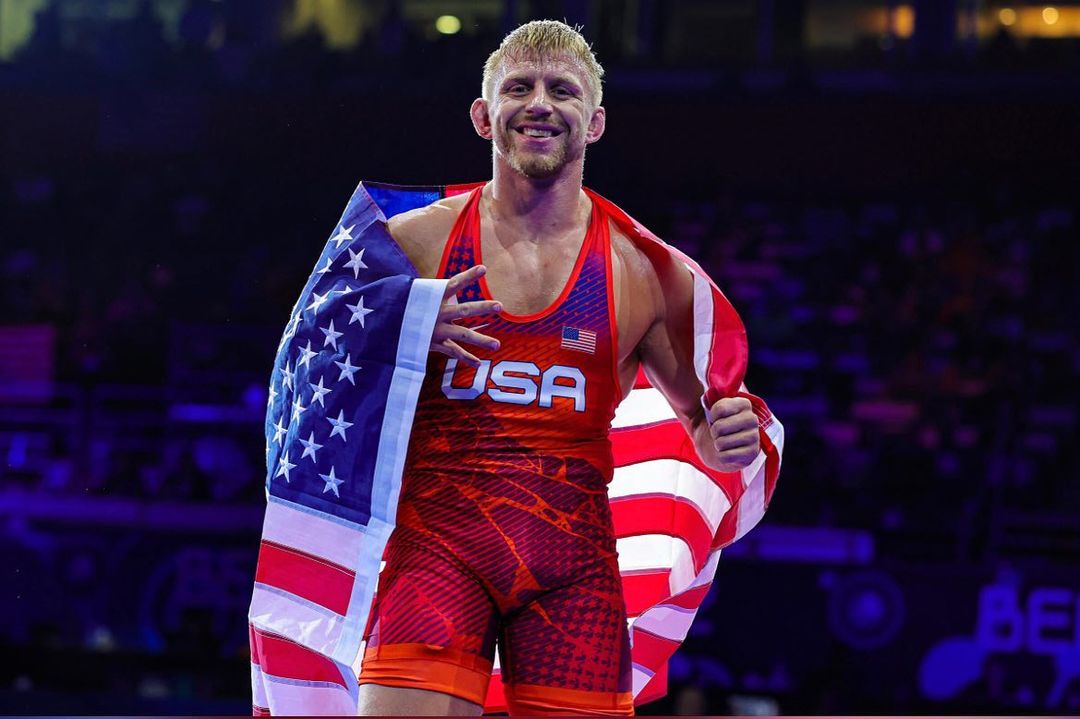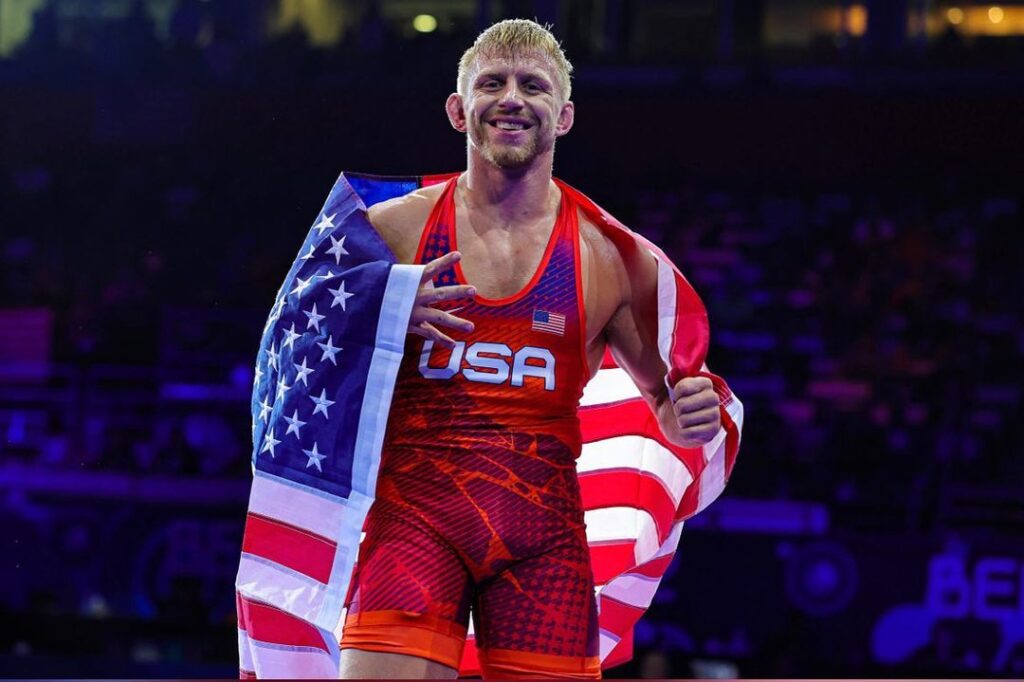 Kyle Dake's Collegiate Career
Dake's stellar high school career would earn him a full scholarship to Cornell University. A university known for producing high level wrestlers.
As a freshman, Kyle was already one of the best wrestlers on the team. He would start his collegiate career in the 141lb(63.95kg) as a freshman. Going undefeated his freshman year and winning every major NCAA title.
In his sophomore year, Dake would move up to the 149lb(67.58kg) and be just as unstoppable. Going undefeated in 2011 once again and winning his second NCAA championship.
For his junior year, Dake would move up once again to the 157lb(71.2kg) division to take another challenge. Earning his third NCAA title and going undefeated for the third straight year.
In the same year, Kyle Dake would make his senior freestyle debut, where he'd be the runner-up to Andrew Howe.
For his senior year, Kyle would move up a weight class for the fourth time to the 165lb(74.84 kg) division. Becoming only the third wrestler in NCAA history to win four straight titles.
But Dake was the first ever to win four NCAA titles in four separate divisions. Accomplishing all of this, while earning every award possible and going 20-0 in the NCAA Championship tournaments.
Kyle Dake's Health Problems
After finishing a legendary college career, Kyle Dake would face numerous obstacles in 2014. His body would finally break down after years of hard wrestling and deal with numerous staph infections.
His bad health would put him on the shelf for most of 2014. But he came back better than ever in 2015.
Kyle Dake's World Championships
On top of winning four straight NCAA titles, Kyle Dake is also reigning and defending 4x world freestyle champion. Something that no other American wrestler has ever done.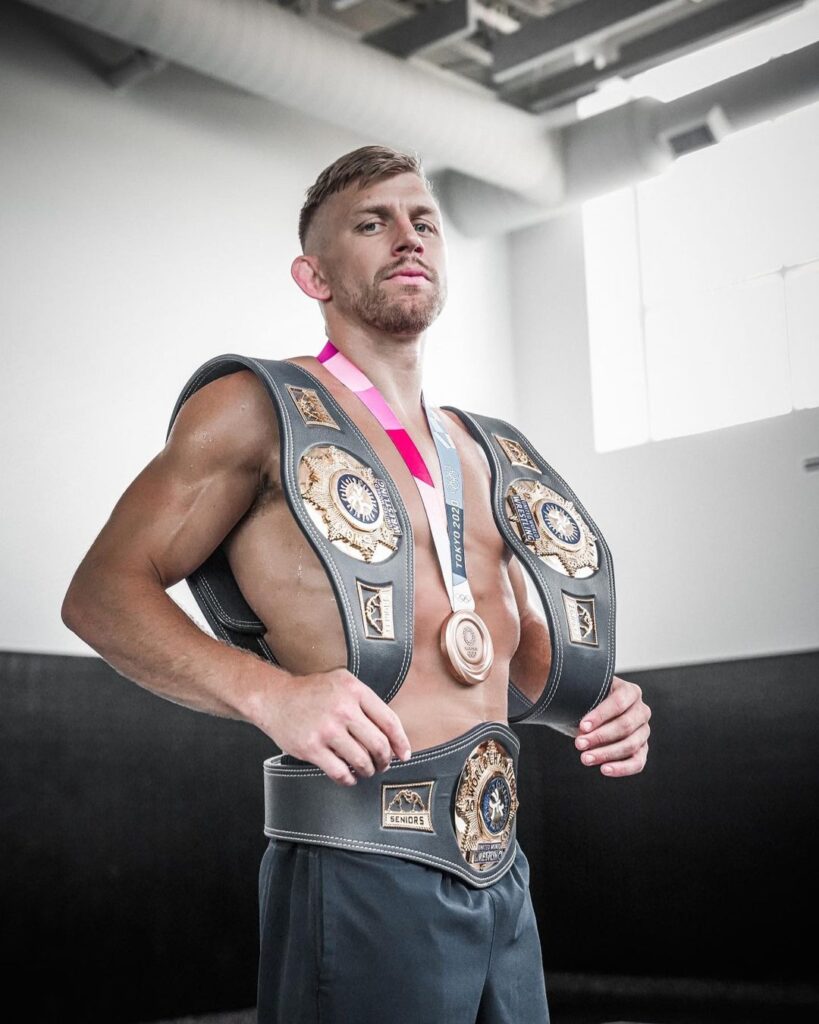 2018 Freestyle World Championship
In 2018, Kyle would compete in his very first Freestyle World Championship that was held in Budapest. Competing in the 79 kg division in an incredibly stacked division.
He would have one of the best performances of his career. Giving up no points and winning all four matches by technical fall.
The opponent's he beat included Martin Obst and defeating Jabrayil Hasanov in the finals.
2019 World Championship
After earning a bronze medal at the 2020 Tokyo Games, Dake would return to the World Championship to attempt to retain his title.
He would be successful in retaining his title with another great performance. Defeating Jabrayil Hasanov once again to win his second title.
2021 World Championship
Since Kyle medaled at the Olympics, it automatically qualified to participate in the 2021 World Freestyle Championship. For his third world title attempt, Kyle Dake would move down to 74 kg.
In the finals, Kyle would defeat Tajmuraz Salkazanov to win his third straight world title.
2022 World Championship
After making history in 2021, Kyle would once again try to make history in 2022. Going for an unheard of fourth straight world title.
This tournament would be one of the toughest of his career, but he would once again come out on top. In the finals, he beat Tamjuraz Salkazonov from Slovakia 3-2 to win his fourth world title.
Kyle Dake vs. Jordan Burroughs
Without a doubt, the biggest rival in the career of Kyle Dake is Jordan Burroughs. An Olympic gold medalist and multiple time world champion. Many argue that Burroughs is as good, if not better than Dake.
Throughout the last decade, the two wrestlers have had a bitter rivalry. Having numerous matches against each other.
One of their first meetings took place at the 2013 US World Team Trials. Burroughs was fresh off winning a gold medal and would beat Dake twice to earn his spot on the US team.
Jordan would continue to get the better of Kyle over the next few years. Beating Dake again twice at the team trials in 2015 and then again three times in 2017. Winning the US Team Trials again and the US Championship.
Dake won his first match against Burroughs in 2017 and would finally get his revenge in 2021. Finally beating Burroughs twice at the 2020 US Team Trials.
Many saw these wins as a possible passing of the guard for who's the current best American wrestler.
Kyle Dake's Best Techniques
Kyle is primarily known for being one of the best defensive wrestlers in the world. Always having an answer for his opponent's attacks and answering with counter go-behinds and chest wraps.
Using these positions to set up his powerful body lock takedowns. As for his offense, Dake is known for impressive snatch single.
He loves to take a low stance and bait his opponents in a variety of ways. Faking shots or doing quick switches to force his opponent to either square up or force their leg forward.
Once he's in range, Kyle will hook behind his opponent's knee and switch between a high crotch or snatch single. Dake also likes to set up his single legs off of his defensive counters.
Hitting them off of anything from sprawls or circling out of throw attempts.
Kyle Dake's Conditioning Training
One of the biggest things that has helped Kyle be so successful is his conditioning routine. Wrestlers are known for being extremely dedicated to their conditioning training, but usually go to failure and break themselves down.
Dake has seeked the help of the top trainer's in the world to help with his conditioning. He is now able to reach peak conditioning levels without breaking down his body.
Everything he does is functional with focus on movements that he would do in a wrestling match. His advanced training system along with a focus on technical training is what has made Dake a champion.
The Legacy of Kyle Dake
Kyle Dake has nearly done it all in his wrestling career. He's the only American wrestler to win four straight NCAA championships and four straight world titles.
The only major title that he is yet to win is Olympic gold, which he is focused on in 2024. If Dake is able to win Olympic gold, he may be considered the greatest wrestler of all time.