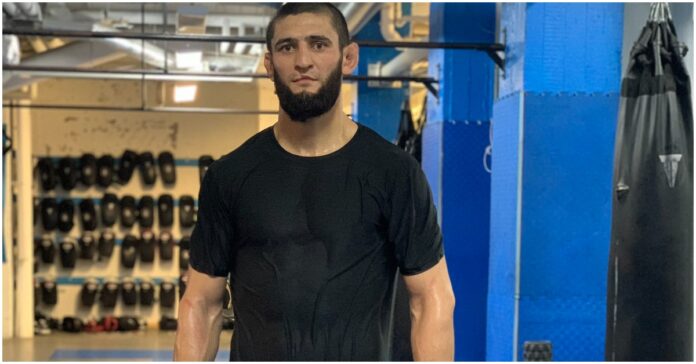 Khamzat Chimaev wants to face Conor McGregor in the main event when the UFC returns to London on March 19.
'Borz' is looking for a big-name opponent after picking up four UFC wins and cracking the welterweight top 10. The UFC has offered McGregor's long-time rival, Nate Diaz, the chance to face Chimaev, but the MMA icon turned down the fight on the grounds that the undefeated Swede is a "rookie" who is not worthy of a fight against him.
Diaz later took to social media to suggest Chimaev should fight McGregor instead.
"Let him fight kamrat that be a great fight to make He needs a easy new guy to fight anyway he can taper back in and see if he can even still fight at all Great idea Nate Thanks," Diaz wrote on Twitter.
"No problem, bitch," McGregor replied before deleting the tweet.
Chimaev is clearly excited by the prospect of facing off against McGregor inside the Octagon and has now taken to social media to suggest a date for their potential match-up.
"March in London let's do it bro King vs King @TheNotoriousMMA he ran away like his brother @NateDiaz209 209," Chimaev wrote on Twitter this Monday.
Khamzat Chimaev vs. Conor McGregor Seems An Unlikley Match-Up
A fight between Chimaev and McGregor is far-fetched for quite a few reasons.
Firstly, 'Notorious' is currently healing up and will not be ready to compete until the summer months of 2022.
The Irishman also competes at lightweight and would be seriously undersized against Chimaev who switches between welterweight and middleweight.
Lastly, 'Borz' is not quite on McGregor's level yet in terms of name value, however, that doesn't mean that he won't be someday soon. Chimaev has been the breakout star of the last two years and appears to be on the cusp of becoming a genuine superstar.
Do you think we'll ever see Khamzat Chimaev vs. Conor McGregor?