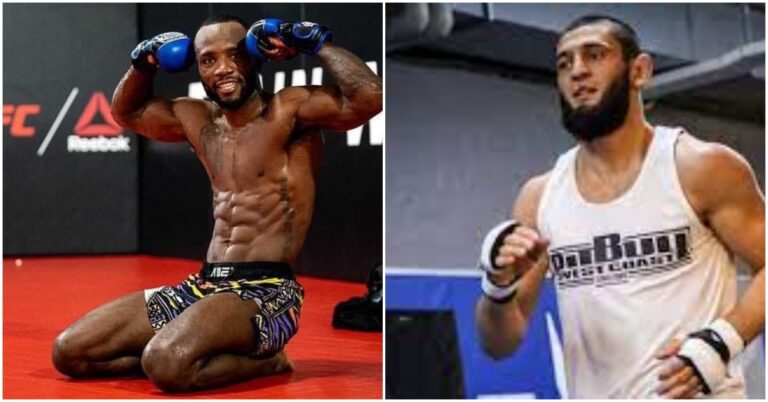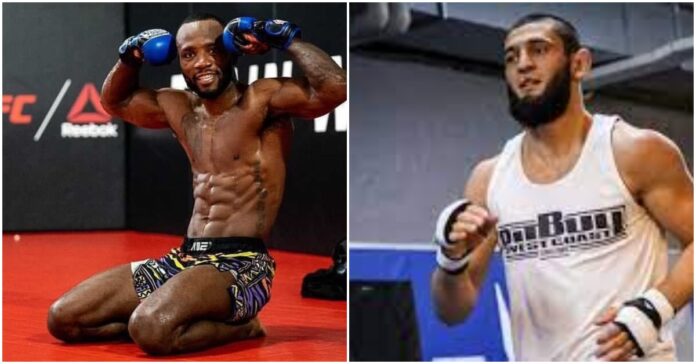 Khamzat Chimaev claims that Leon Edwards visited a gym he was training at and "ran away" from a sparring session, before Chimaev was signed with the UFC.
Chimaev and Edwards have had a few fights fall through between the two of them. The two fighters were scheduled to go toe to toe with each other three times, but COVID-19 had other plans. Both fighters ended up catching COVID and would force them to withdraw two separate times. Then when the UFC made the fight again, Chimaev had to drop out due to the lingering effects that COVID had on him. There were even rumors that 'Borz' would retire during that time.
Chimaev would end up coming back in 2021 after his long battle with COVID and faced off against Li Jingliang, who he easily defeated via a first round submission. With that being said, Chimaev still has his eyes set on Edwards and wants to fight him in the near future.
Khamzat Chimaev was on 'Hustle MMA' being interviewed when he stated that Leon Edwards ran from the sparring session and would his most desired fight in the division.
"How can I put it. He was in our gym. I wanted to spar with him. But he ran away. When I wasn't in the UFC. I offered to spar, he wouldn't even spar with me. And he said: 'In the future, maybe, we'll see.' When the fight was scheduled for the first time, he had Covid, and then I had my own problems. Now we are back – I challenged him, and he said he wants to fight Usman. And Usman isn't going to fight for 6-7 months. So is Edwards just going to sit around? I don't think so. I don't know, he's a weird dude too." (Transcribed by Sportskeeda)
Whether Edwards will take the bate and fight Chimaev is another story. It seems as if Edwards is willing to hold out for the Kamaru Usman fight, as he has won nine fights in a row. Taking a fight with Chimaev and losing could be detrimental to his title shot hopes. On the other, a win over Edwards for Chimaev would set him up for a title shot as well. It is obvious why Chimaev wants this fight or a Colby Covington fight, as it is the shortest route to a title shot.
Would you want to see Khamzat Chimaev and Leon Edwards finally fight inside the octagon?