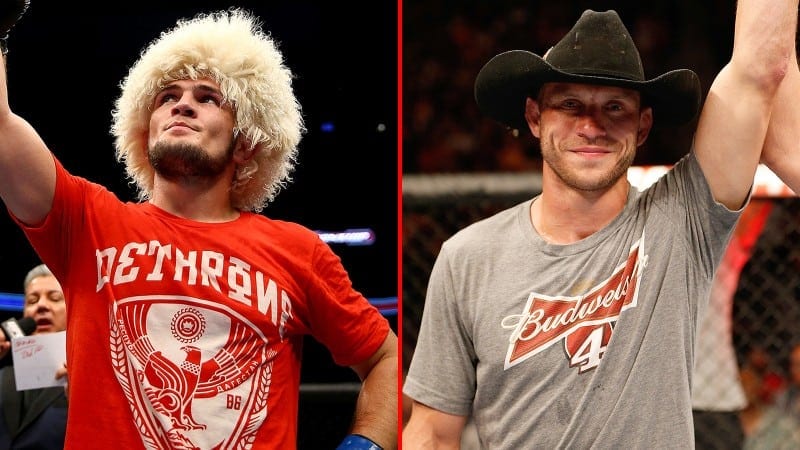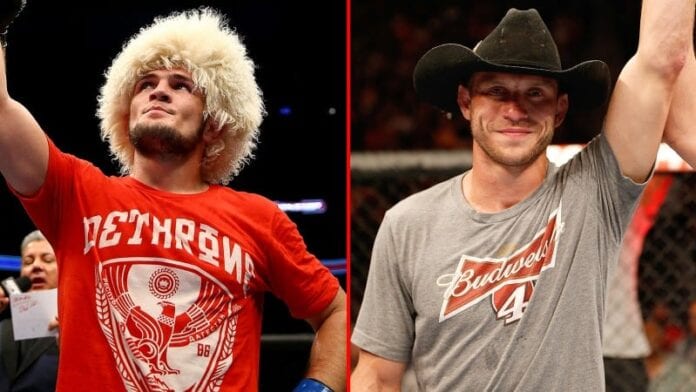 Just over two months before his anticipated showdown with Donald "Cowboy" at May 23's UFC 187 from Las Vegas, No. 1-ranked UFC lightweight Khabib Nurmagomedov is ramping up the trash talk about his fan favorite opponent.
"Cowboy" has even admitted that the smothering grappler got under his skin with his seemingly endless words spoken in the Dagestan's still-developing brand of English.
Nurmagomedov isn't going to slow down with his verbal assault, either. After he blasted former lightweight champion Anthony Pettis after his UFC 185 defeat and warned current champion Rafael dos Anjos to work on his wrestling for their perceived rematch, "The Eagle" appeared on today's The MMA Hour to give his take that Cerrone isn't a real cowboy:
"It's just funny. Cowboy is fake. I don't think so he's really cowboy, I think he's fake. He all the time drink, drunk. I don't think so he's really cowboy. I'm really cowboy. I'm mountain guy. I'm training camp all my life, I'm wrestling with the bears. I'm really cowboy. He's drunk guy. I am Dagestan cowboy, 100-percent.
The 26-year-old Combat Sambo champion turned it up from there, promising that Cerrone is scared of him and will realize what he got himself into when the two finally throw down in May.
"You know why he's a little bit nervous? Because I say truth. I say truth. I no say trash talk, I say truth, and he's a little bit nervous. He needs wrestling, he needs wrestling partners. But it's okay. After two months we have fight, we have crazy fight, and when cage close, he understand, 'Wow, this guy's crazy. Why I take this fight? Why I take this fight?' Because I want to smash this guy. He say I won't smash this guy? [He say,] 'I kick his ass.' Okay. 23rd, May. 23rd, May."
It's a given that Cerrone will need to have the sharpest takedown defense he's ever had when he squares off with "The Eagle," who owns the UFC record for most takedowns in a single fight with 21 of Abel Trujillo at UFC 160 in May 2013. The No. 3-ranked "Cowboy" does have an impressive 69 percent takedown defense rate, but he's never faced off with a grappler as elite as Nurmagomedov.
Undefeated at 22-0, the mat technician believes it's this skillset that will propel him to an easy kimura finish of Cerrone.
"I think I take this fight easy. Like dos Anjos, same fight," Nurmagomedov said. "Maybe I second or third round I finish him. Maybe I give him kimura. This is my plan. If Cowboy listening, please, Cowboy need training different for kimura. He need different. This is no joke. After fight we talk about this."
Nurmagomedov makes a bold claim about the purported ease with which he believes he'll dispatch Cerrone, who's won seven straight fights during one of the most hyperactive and successful streaks in UFC lightweight history.
Will "The Eagle" end it abruptly and soar on to another faceoff with dos Anjos?