Ken Shamrock & Kimbo Slice Voice Their Support For Regulated PED Use In MMA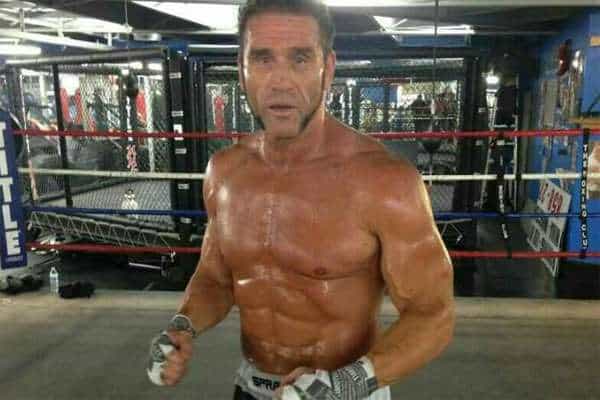 Heading into his Bellator 138 main event against Kimbo Slice next weekend (Sat., June 20, 2015), MMA pioneer Ken Shamrock recently raised the collective eyebrows of the MMA world when he posted a photo online of him looking ridiculously ripped for a 51-year-old man.
Many were not surprisingly quick to jump all over Shamrock, who has been caught using steroids in conjunction with a 2009 bout in a smaller promotion, for using the juice again, and indeed 'The World's Most Dangerous Man' had been on record as saying that he had incorporated performance-enhancing drugs (PEDs) into his regimen before.
But there was a decent amount of shock when news broke earlier today (Thurs., June 11, 2015) that Shamrock and Slice had been randomly tested out-of-competition and passed. Despite that fact, Shamrock still supports the regulated use of PEDs given the sheer rigorous beating that an MMA fighter's body is forced to endure on a day-to-day basis.
Speaking to MMA Fighting, Shamrock detailed his thoughts on the sports' most controversial topic:
"The best way that I could describe this is like putting gas into a race car that's regular gas," Shamrock said. "It's not gonna perform to its maximum level, because of all the pressure you're putting on the engine and pistons, the carburetor and the gas lines and everything that goes into making that thing go fast and perform at a high level. Those things would blow up and blow out if they don't have what they need to push that big strong engine. And the body is the same way where you're constantly pushing it beyond the normal level of a human being."
According to the MMA legend, fighters simply go through too much of a strenuous toll on their bodies to not be able to take some kind of PED. The result, he believes, are worn-down fighters making their way to the cage depleted and unable to put on an exciting show, which is obviously the the exact opposite of what fans want to see:
"It's not average to take your body through two or three hours of training, beating, banging, punching, weights," Slice said. "Eating different, sleeping shorter, waking up to compete. Your body goes through some sh*t. The ligaments, the bones, the tendinitis. That's some brutal sh*t the body has to go through. The commissions, we should allow everything to be under control at a certain level to keep the sport good, to keep the fans wanting to see their favorites and paying millions of dollars. Yeah, f*ck yeah. I'm all for that."
As far as the controversial photo is concerned, Shamrock said he was frustrated the people automatically assumed he was on PEDs, because his newfound shape is a product of hard work, something that his clean drug test should prove:
"It bothers me when you put that much work into it," Shamrock said. "The ignorance that goes into that is like saying that Albert Einstein put a needle in his brain and shot stuff in there to make him smart. It's just to me beyond the comprehension of people understanding that you don't just put a needle in your vein and it happens. It's hard work. It's hard work to get in there and spar with people have a fresh guy come in on you and getting banged around and submitted and going for an hour or 45 minutes straight, no rest. Day in and day out for six months."
For his part, Slice said that he wasn't all that concerned with Shamrock's use (or non-use) of steroids, noting that he wants to beat the best, in-shape version of Shamrock regardless of how he came to arrive at that point:
"I don't care what he has to do," Slice said. "I want him to do what he needs to do to be at his best. I want to beat Ken Shamrock at his best. I want to knock him the f*ck out at his best. If he beats me, I want him to beat me and say he was in the best shape of his life.
"I wouldn't care. I don't want the fans to care. I don't want the commissioners to care. I don't want no one to care. When you're an entertainer, you're a sports entertainer — from football, to basketball, to track runners — we're not sitting at a desk. We're doing something with our bodies and some athletes may require a little bit more sports medicine and that's different from the average. No, I won't knock it. I wouldn't knock it, I wouldn't cry about it. I'm a fighter by heart, I'm a fighter in my blood."
But even though he doesn't care if Shamrock uses steroids prior to their fight, Slice confirmed that he doesn't use them himself. His reason, he stated, is that he is already a high-energy person to begin with, and using outside substances would only serve to push him over the edge of normalcy:
"No, I was always afraid," Slice said. "I have high blood pressure, my mom is a diabetic, my dad is a diabetic. I just had natural energy for days. I felt like if I would have took anything it would have f*cked with me. I would have been crazier."
Although he may not use PEDs himself, Slice did echo Shamrock's sentiment that, at the end of the day, fans are paying their hard-earned money to watch fighters put on a good show, and if that requires them to use steroids to do so, then so be it:
"Fans want to see us compete," he said. "We as athletes may have to see the doctor a little bit more than normal. We may take in particular a little more protein and vitamins than normal. If some guys have to get a fuckin' Superman haircut, then let him do it. If some guys need to tattoo Superman on their nuts, then let them do it. Fans want us to show up and be at our best. They don't want us drooping and lollygagging and looking tired and looking like sh*t."
As aging fighters, Shamrock and Slice have poignantly confirmed their support for regulated PED use in the sport of MMA. That may not be a surprise given their advancing age, and many others have argued that so many MMA fighters are on them that it may be beneficial to let them use PEDs in a controlled sense.
The exact way to control them and regulate their use, however, is a hornets' nest of uncertainties that will most likely never be delved into based on the UFC's new and increased drug testing.
Will a decrease in PED use result in a decrease in excitement for MMA fans? And if so, would that warrant the legalization of steroids in fighting? My guess is probably not.