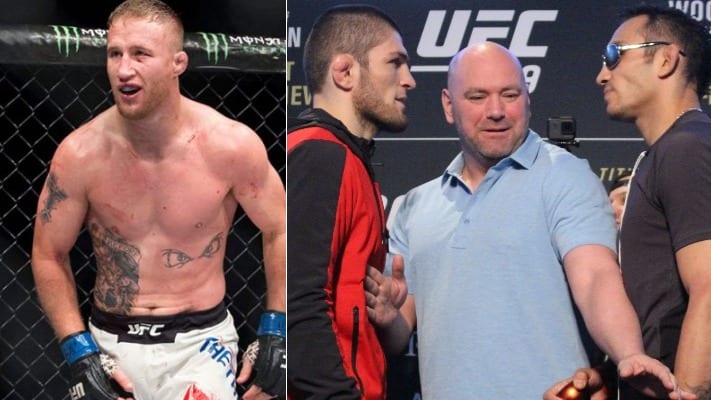 The mixed martial arts (MMA) community is buzzing about the UFC potentially finally booking Khabib Nurmagomedov vs. Tony Ferguson for 2020.
Nurmagomedov currently reigns as the champion of the lightweight division, but Ferguson is on a massive win streak, and has made the case for a title opportunity numerous times. Many give "El Cucuy" the best chance of being the one to solve the puzzle that is Nurmagomedov. UFC president Dana White has confirmed the Las Vegas-based promotion is looking to book the fight for April in Brooklyn.
With that being said, fellow top-ranked UFC lightweight, Justin Gaethje, has offered his thoughts on the matchup. Speaking on UFC Hall Of Famer Michael Bisping's podcast, "Believe You Me," Gaethje offered up his prediction. (H/T MMA Junkie)
"I do think Khabib will win," Gaethje said. "But I do think Tony is going to bring some … I don't know if he's going to lay on his back and throw elbows, I don't know what the hell is going to happen there. Especially the way Khabib fights, and the way Khabib wins.
"It's crazy how much and how hard Tony gets hit, how often he gets hit at fights but I don't think that's going to be a problem for him in this fight because Khabib is not going to be looking to exploit that, that option. He's going to do what he does. I'm really interested to see if Tony, his jiu-jitsu, for one, plays a factor, and for two, just his tenaciousness of being on bottom and still wanting to fight."
Gaethje is on a decent streak himself, racking up three-straight wins, all of which have come by way of a first-round knockout. "The Highlight" could very well be in line to fight the winner of a Nurmagomedov vs. Ferguson bout. Ultimately, his goal is to fight "The Eagle" and attempt to be the first man to beat him in MMA competition himself.
"I'm trying to get to Khabib," Gaethje said. "Khabib, I know, has publicly stated he does not have many fights left, so I have to fight him before he goes away. I can't let him go undefeated without at least testing, being able to test him myself. I consider myself one of the most dangerous lightweights in the world and I bring different things that Khabib hasn't had to deal with, necessarily.
"I have crazy power in my legs, in my arms, in my hands. I'm really good at wrestling. I'm super athletic. I've been wrestling as long as he has. Nobody has wrestled as long as he has except for me. So I'm trying to ultimately get that fight."
What do you make of Gaethje's assessment of Nurmagomedov vs. Ferguson?