Joseph Benavidez Outguns Ali Bagautinov In Houston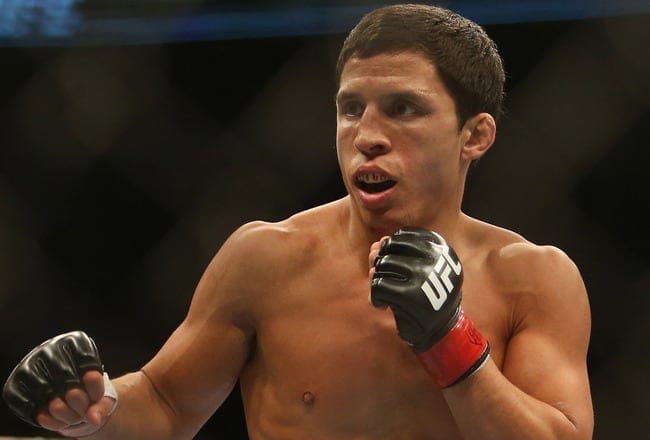 Two former Ultimate Fighting Championship (UFC) flyweight title challengers did battle at UFC 192 to determine who would move up the 125-pound ladder. Joseph Benavidez (23-4) met Ali Bagautinov (13-4) at the Toyota Center on Oct. 3, 2015.
The two flyweights were rather patient at the start of the fight. Benavidez landed a short uppercut to Bagautinov. "Puncher" whiffed a hook, but Benavidez couldn't capitalize. Benavidez looked for an overhand right, but he couldn't do much damage. Bagautinov landed an uppercut and a cut formed over the left eye of Benavidez. Team Alpha Male's best 125-pounder missed two high kicks and it appeared the blood from the cut was hindering him.
The second stanza saw Benavidez connect with a straight right hand. The two-time title challenger kept head hunting with high kicks to "Puncher." A thudding body kick landed for Benavidez. Bagautinov landed a left hand to Benavidez as he got away from the cage. With 20 seconds left in the round, "Puncher" timed a leg kick and took Benavidez down momentarily.
Like the previous rounds, neither competitor could get in a solid takedown and the fight remained standing. Bagautinov landed a jab and Benavidez stepped in with a knee. Benavidez blocked a body kick and connected with a knee to the head of "Puncher." Bagautinov looked to be less active than his opponent until he grabbed a hold of Benavidez for a takedown attempt. Benavidez landed a knee to the body on the break and the horn sounded about 20 seconds later.
All three judges gave the nod to Benavidez.
Final Result: Joseph Benavidez def. Ali Bagautinov via unanimous decision (30-27, 30-27, 29-28)