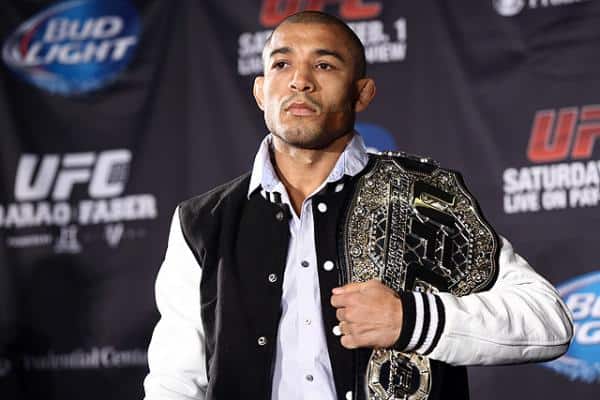 UFC featherweight champion Jose Aldo has dealt with his fair share of call outs over the years, and will look to settle the beef with his most heated rival Conor McGregor at some point later this year. Having come close to fighting Anthony Pettis while 'Showtime' was the lightweight champion, the ever-elusive superfight is a goal yet to be attained by 'Scarface', or any other UFC champ for that matter.
Aldo's bantamweight counterpart and two-time Nova Uniao opponent TJ Dillashaw recently offered his interest in a champions match with Junior, but the only ever UFC 145-pound boss isn't interested at this point.
Speaking at the UFC media scrum in Brazil, as transcribed by MMAFighting, 'Scarface' finally responds to 'The Viper's' November comments:
"The superfight will happen now, between the champion and the interim champion. What T.J. said will happen now," Aldo told the media during UFC 190 in Rio de Janeiro. "Conor and I will fight and, if God wants, I will continue to be the champion."
"About T.J., congrats to him, he defended his title one more time against Barao, but he has no right to demand anything," Aldo said. "This kid is just starting, and his division isn't talked about yet, so he has to try to make his name first before trying to hit someone."
Given Dillashaw's two dominant victories over Aldo's training mate Renan Barao, you'd think that the featherweight kingpin would at least have a little motivation to fight 'Killashaw', but clearly name value means a lot to the Brazilian boss.
Jose Aldo seems to go against the grain quite a bit in terms of attitude towards the promotion, recently stating he didn't care what American fans thought of him, and also threatening to sue the UFC and Chael Sonnen.
Considering TJ Dillashaw is already a champion, isn't that name value enough?