Jose Aldo is set to defend his UFC featherweight title against red hot interim champion Max "Blessed" Holloway in the main event of June 3's UFC 212 from Rio de Janeiro, Brazil, but he still receives questions about bitter rival and former champion Conor McGregor, who knocked Aldo out cold in just 13 seconds at Dec. 2015's UFC 194.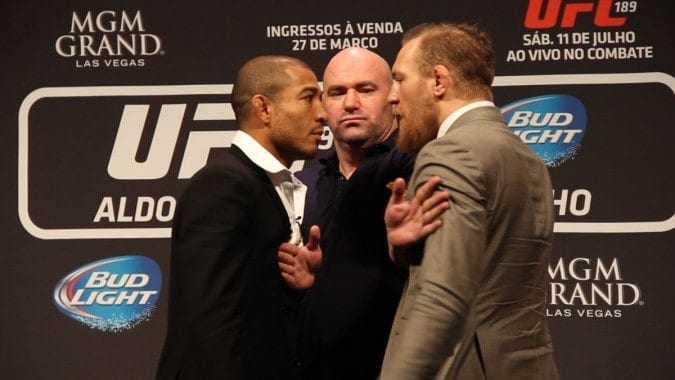 Aldo, however, appears to be focused on the featherweight contenders coming up the ranks, as he recently said that McGregor will 'never' accept a rematch:
"It's good that this subject is being brought up, because nowadays everybody talks about something, and I don't really understand why," Aldo told reporters (Via MMAJunkie) in his native Portuguese. "Conor, on the one hand, was good, let's say. And it's good to explain that to everyone, because he brought a lot more visibility, both to the division and to me. But, on the other hand, talking about the fight? That's in the past.

"Everybody goes back and talks about this, if I want (a rematch) or not. It's not up to me. It's up to the UFC. And we know that it's never happening. I don't even know if he's fighting again. I ask not just the reporters, but everyone who talks about 'Aldo …' This doesn't exist anymore. The UFC tried to make that fight, and he didn't accept it, and he never will. Because what happened is never happening again. It's good to make that clear for everyone.

"I see athletes, reporters, UFC people saying that 'Aldo wants to fight (McGregor) … Man, there's no way. He doesn't want to fight me anymore, and it's never happening again. And that's good, because then nobody ever talks about my name or his. I don't give a damn about what Conor is or isn't doing. I'm a UFC athlete fighting in the featherweight division. So whoever is coming up the ranks, these are the guys I need to fight, that I have to train for, and get better and better to defend the belt."
The build-up to UFC 194's main event between Aldo and McGregor was sensational, and although the outcome of the fight was both shocking and thrilling, it left some fans wanting more.
The "Notorious" one, however, never ended up defending the 145-pound strap, instead electing to take on Nate Diaz in back-to-back bouts before closing out 2016 with a dominant knockout victory over Eddie Alvarez at UFC 205. The win over Alvarez made McGregor the first fighter in promotional history to hold two titles at one time, but he was later stripped of his featherweight belt.
Aldo, on the other hand, bounced back from his loss to McGregor with a one-sided decision victory over Frankie Edgar last July at UFC 200 to become the interim champion, but he was later promoted to undisputed titleholder. Now ready to defend that strap against Holloway, who's won an incredible 10 straight fights, Aldo knows he has a 'big challenge' in front of him:
"Max is a big challenge," Aldo said. "He's an opponent I already imagined I could fight. I'm a reference. I'm the target. Everyone wants to be the champion. So I'm always studying every up-and-coming athlete in the division. This will be a test for me, because he's a young guy, hungry to win, but he'll be one more to try and not succeed. To me, that's certain."
What do you make of Aldo's comments?