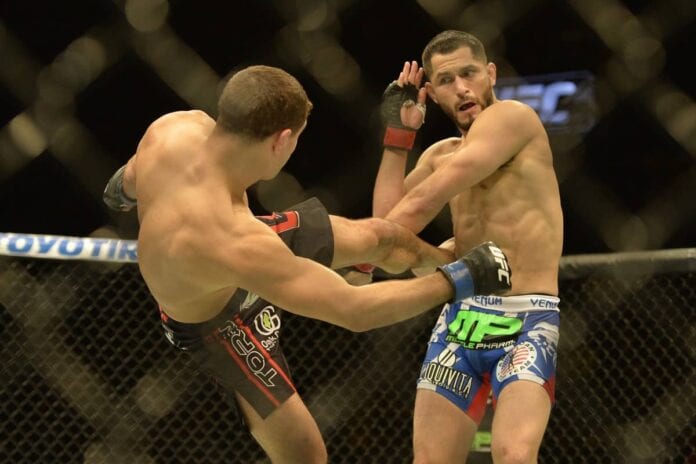 UFC Fight Night 63 went down yesterday (April 4, 2015) from the Patriot Center in Fairfax, Virgina and Chad Mendes proved his worth as a top featherweight in the main event, starching fellow 145-pound contender Ricardo Lamas in the first round. However, a ton of speculation went to the co-main event of the evening as well which featured "Raging" Al Iaquinta taking on Jorge "Gamebred" Masvidal.
After almost finishing Iaquinta in the first round, Masvidal seemed to slowdown, allowing "Raging" Al to battle back, and push forward for rounds two and three. When the scorecards were read, Iaquinta had scored a highly controversial split-decision win.
The crowd clearly thought Masvidal had won due to their vicious boos after the decision was read, and speaking with MMAJunkie, "Gamebred" also felt that he had got the job done:
"I felt I won," Masvidal said. "If Al Iaquinta is sincere with himself, ask him. See if he thinks he won or not."
After all, Masvidal looked good as new after the fight, while Iaquinta was bloodied up. The former Strikeforce title challenger said that he's ready to go again right away, but is so confident that he won, that he will not even cater the idea of a rematch with the Serra-Longo product:
"I'm just as pretty as ever," Masvidal said. Ain't nothing happen to me. I'm ready to go right now another two, three, four rounds.
"I'm not looking to do a rematch or nothing because I felt like I straight up won that fight."
Fights like these make UFC President Dana White's famed line "Don't leave it in the hands of the judges" all the more accurate. Masvidal himself has been on the wrong side of a controversial decision before, and he knows it probably won't be the last time either:
"This is not the first time it happens," Masvidal said. "Probably won't even be the last. … We keep moving forward."
Masvidal may be very disappointed and upset with the judges, but he did offer up his respect to Iaquinta, noting that "Raging" Al ate some big shots and kept coming forward. However, at the end of the day "Gamebred" believes that he won the fight:
"Tough dude," Masvidal said. "My hat's off, anyways, to him because he took some amazing shots. I feel I won that fight – from the bottom of my heart. It's disappointing."
Do you think Iaquinta do enough to steal the victory, or should Masvidal have been awarded the decision?
Photo Credit: Tommy Gilligan-USA TODAY Sports