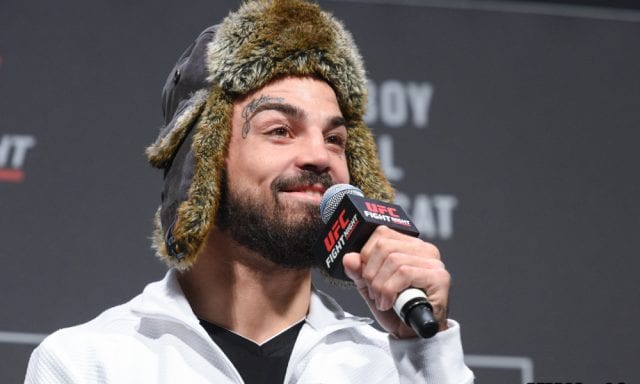 Mike Perry has credited Jon Jones with teaching him the 'secret' to mixed martial arts.
Perry joined JacksonWink ahead of his fight with Paul Felder at UFC 226. He would beat Felder but went on to lose his next fight against Donald "Cowboy" Cerrone at the UFC's 25th-anniversary show earlier this month. Regardless, Perry isn't licking his wounds for too long, not when you have "Bones" Jones at your disposal.
"Platinum" Perry recently made an appearance on BJ Penn Radio. He admitted he has a lot to learn yet and that Jon Jones has helped him tremendously in improving his ground skills:
"You need position on the ground. Jon Jones told me the secret to MMA is ground-and-pound. There were some times where I had positions on Cowboy that I should have been able to pop up and explode a little bit, and then drop down shots on him.

"I wasn't very comfortable on top of him. I mean, I went for a key lock, and then he just rolled right from under me. There's a better way to put my weight down. I needed to sit back. I got to work sitting my hips back more so it becomes more of a muscle memory."
Difference In Training
Perry went on to say that Cerrone was practicing the way he defeated him while he was not. 'Platinum' said his opponent was able to stop him from unleashing ground damage:
"He had been in the gi for this camp, he had been grappling, and he had been attacking people's arms. I had not been submitting people in practice. I was trying to ground and pound and hit people, but he knew how to stop me from ground and pounding him in good positions. His jiu-jitsu was just smoother."
Perry will look to learn from his mistake and distance himself from the drama between Mike Winkeljohn and Cerrone. He said the in-fighting did creep into his performance in Denver.
Now that he's got Jones helping him with his ground game, Perry will look to rebound after adding some new wrinkles to his skills. He'd better, as he's lost three out of his last four.
Will Jones' tutelage be enough for 'Platinum' to return to a position of a rising star?
If you enjoyed this story, please share it on social media!