Jon Jones: 'Mr. JV' Phil Davis Can't 'Crumble Me Like A Cookie' In Bellator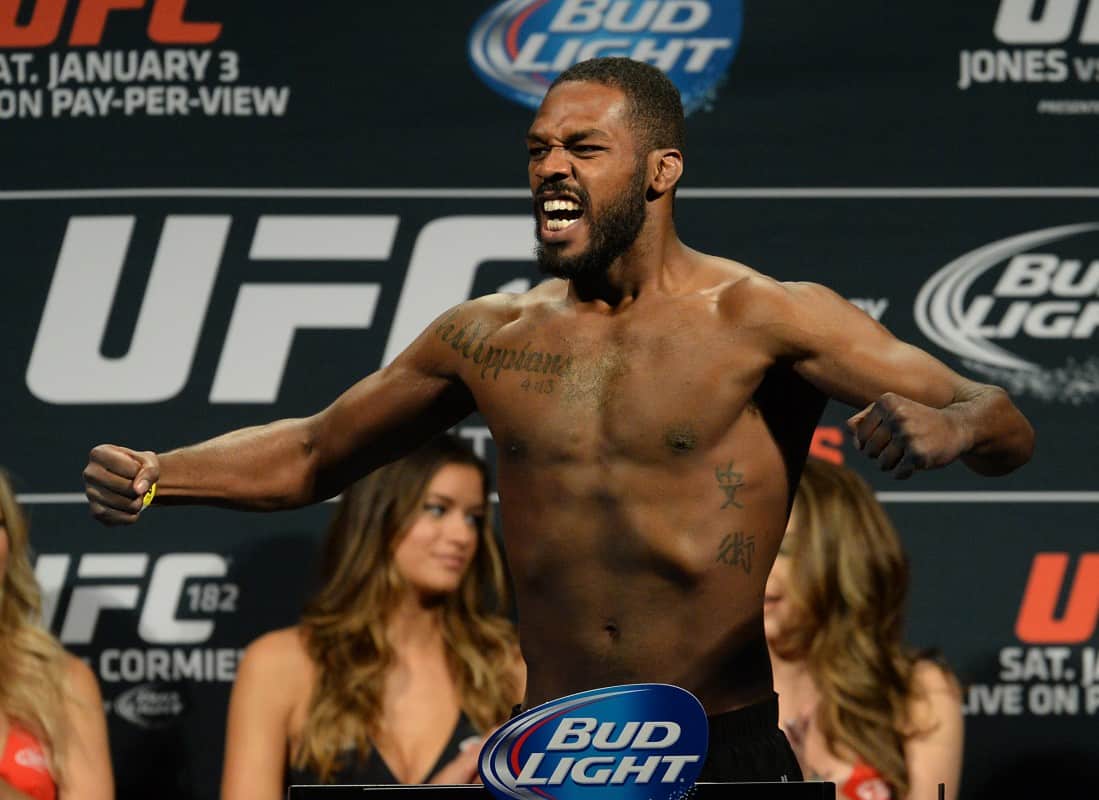 After storming out to a 9-0 record following his win over Antonio Rogerio Nogueira in early 2011, NCAA national champion wrestler Phil Davis appeared poised for an eventual run at longtime champion Jon Jones' light heavyweight belt.
But then came a lackluster 4-3(1) stretch that saw Davis lose to top competitors Rashad Evans, Anthony Johnson, and Ryan Bader while winning a highly controversial decision over Lyoto Machida at UFC 163. "Mr. Wonderful" also didn't finish a single bout during that stretch, something that may have ultimately spelled his undoing in the world's premier mixed martial arts (MMA) organization.
News came earlier this week that Davis had signed a multi-fight deal with rival Bellator, and he spoke up to confirm that the UFC would not match the offer after his contract expired following his UFC on FOX 14 loss to Bader.
It's a move that most likely benefited Davis in more ways than one, as it will pay him more money to take on lesser competition in a smaller organization.
Most of the fighters who have responded to Davis' move agree on those points, and Jones is no different. Yet speaking during last night's Google Hangout with Andrei Arlovski (via MMA Fighting), Jones took the opportunity to make a small barb at Davis, who said he would 'crumble him like a soft bread cookie' in the buildup to his loss to Johnson.
Now, 'Bones' knows that time will probably never come, but he's still happy Davis was able to capitalize on his skills and achieve a bigger contract in Bellator. Jones wouldn't deny that the signing was a win-win scenario for Davis:
"Oh my goodness," said Jones. "'Mr. JV,' himself. To be honest, I'm happy for him if he's going to make more money over there. Ultimately, it's about providing for our families. It's a job at the end of the day. If he's going to be treated better over there, good for him.
""I do believe the competition is not as stiff at Bellator as the UFC so I think he'll definitely be a top three guy in the world now. Good for him. Maybe he'll even win it. To be a world champion and to make a little more money, that's a win-win. But good luck 'crumbling me like a cookie' from all the way over there."
A solid assessment from the champ, who will soon take on the surging "Rumble" in the main event of May 23's packed UFC 187. There's not much doubt that with his undoubtedly world-class mat acumen, Davis is poised to become Bellator light heavyweight champion in presumably short order.
"Mr. Wonderful" can't be blamed for taking money he probably never would have made in the UFC, but there's always going to be a tiny lasting perception that he took the easy way out by leaving the elite competition in the Octagon.
Do you believe Davis made the right move as a competitor who was stagnating in the UFC?
customer surveys
Photo Credit: Jayne Kamin-Oncea-USA TODAY Sports