Jon "Bones" Jones is arguably the pound-for-pound greatest fighter alive, and an indispensable component of that status is not just his size, speed and reach, but his exceptional ability to all but master each phase of the fight game. Wrestling? Check. Jiu-jitsu? Check. Striking? Check. Transitions? Check.
When it comes to the holy grail that is well-roundedness, "Bones" is the cream of the crop. He's an outstanding wrestler with a devastating and constantly evolving stand up game, complemented by an equally overwhelming ground and submission arsenal. We've often seen him showcase this nearly unprecedented skillset, generally in the form of fighting his opponents smack in the middle of their wheelhouse.
Jones truly seems to enjoy proving a point by attacking his opponents where they're strongest. He likes to give them a taste of their own medicine, so to speak, and he plans to do the same with Ovince St. Preux this weekend (April 23, 2016) at UFC 197:
"I don't like the thought of anyone being better than me at any craft…so, yeah, I'll definitely stand and trade with Ovince, that's definitely where he's the best."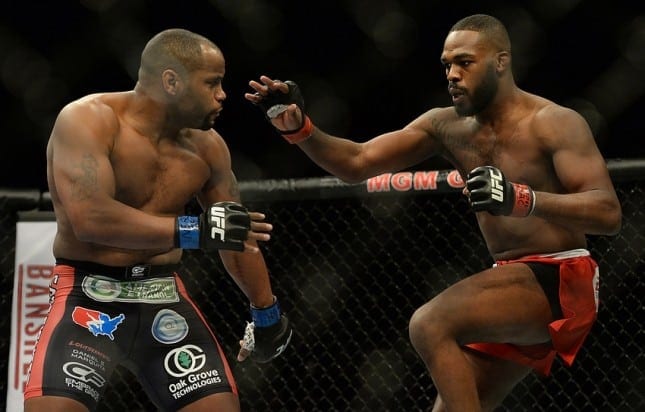 Wherever you're strengths lay, that's the area in which Jones is going to quiz you.
To illustrate this point, think back to these past fights:
vs Chael Sonnen – pressured him, fought up against the cage, got the takedown and ground and pounded him out for the TKO.
vs Glover Teixeira – stood and traded, closed the distance, got in the clinch, fought him in a phone booth and hit him with power shots.
vs Daniel Cormier – used his wrestling, got takedowns and used Cormier's motto "embrace the grind" against him in the championship rounds, grinding him out until the final horn.
From the sounds of things, his rapidly approaching fight against "OSP" will be no different.
Last night (Wednesday, April 20, 2016), Jones appeared on UFC Tonight to talk to the hosts about this upcoming interim title bout, and as you may have already guessed, he's thinking about proving one of his points yet again. "OSP" is a skilled south paw striker, and Bones, being a skilled orthodox striker, says he wants to stand and trade with OSP going to southpaw this weekend at UFC 197.
"I believe that I'm a better south paw than he is, I've spent a lot of time working on my south paw and I just may just fight him south paw the whole fight just to prove a point."
If that statement doesn't ooze utter confidence in dominance, then I don't know what does. One thing is for sure, however, it's going to be great seeing Jonny "Bones" Jones back in the Octagon again, where he belongs.