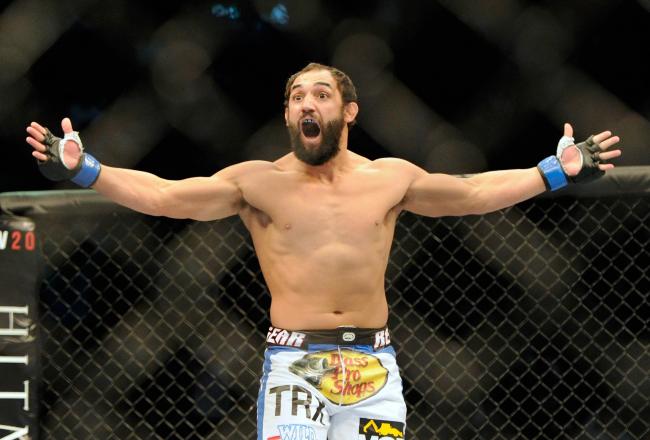 UFC welterweight champion Johny Hendricks had one of the toughest runs to a title fight in the promotion's history, having beaten 10 opponents and only lost to Rick Story, the eventual scrap at UFC 167 must have been a real downer for 'Bigg Rigg'. In a result that is still debated today, GSP retained his title with a controversial split decision win. That wasn't the end of the story though.
St-Pierre then vacated the belt, and Hendricks got his slice of fortune with a close win over Robbie Lawler for the vacant title at UFC 171. Are the memories of that night against 'Rush' a thing of the past? Well check out what Hendricks had to say to UFC Tonight (via MMAFighting.com):
"I don't. I'd love to have a rematch, don't get me wrong, but if he never came back it wouldn't bother me none. I'm trying to make my own legacy and if he's part of it that'd be great. If not, I don't care. Me and Georges St-Pierre? No. I still can't (say he won). I re-watch it and I re-watch it and I re-watch it and the best I can do is three [rounds] to two. Everybody's human. Everybody makes mistakes. It was sort of on my side because I got the fight in Dallas and actually fought a very tough fight again and ended up winning."
Now looking at a plethora of contenders in the welterweight division, even with GSP's absence, Hendricks could well make a huge mark in MMA history if he is able to see off the elite at 170 pounds. 'Bigg Rigg' was then posed a question about the next guy to get a title shot:
"They're both great fights," said Hendricks. "Brown-Lawler. I fought Lawler, never fought Brown. It just depends how [Brown] goes into that fight. I don't like to really pick on my weight class. Sort of just like a guessing game so that one's a close one. Tyron Woodely can easily wrestle [MacDonald], could out-strike him or Rory MacDonald could keep him at bay with that jab like he did a couple of other guys. It just depends."
"I'm going to have to fight one of them. I'm going to have to fight [Robbie] Lawler again or fight [Matt] Brown or Rory MacDonald or Tyron Woodley. Doesn't matter."
Robbie Lawler and Matt Brown will do battle at UFC on Fox 12 this July, as will Rory MacDonald and Tyron Woodley in the co-main event of UFC 174. I think that no matter who wins or loses, there is a big possibility that all the top five could have a crack at the belt somewhere down the line. The question is, can Hendricks hold on to the belt with so much hungry talent coming up?