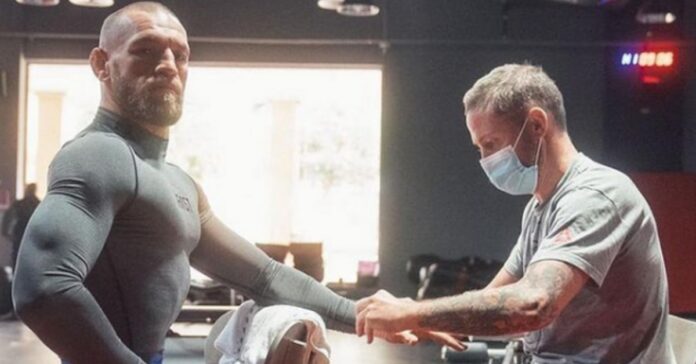 John Kavanagh, the head coach of former two-weight UFC champion, Conor McGregor insists that as far as he can tell, his student had no intention of entertaining a potential "warm-up" contest in his return to the Octagon next year, following a string of three losses in his last four outings, and a fracture of his left tibia just four months ago.

McGregor, who headlined UFC 264 back in July, suffered both a second consecutive loss for the first time in his gold-laden mixed martial arts career, as well as a fracture of his left tibia in the opening round of his trilogy rubber match against former interim lightweight titleholder, Dustin Poirier, resulting in a doctor's stoppage TKO loss. 

The defeat came as McGregor's second of the year and third from four lightweight walks, following a January blemish against the aforenoted, Poirier, when the latter became the first to finish the Dubliner with strikes in professional mixed martial arts in the form of a second round knockout on 'Fight Island'.

In his time away from the Octagon, McGregor, who is expected to be sidelined until the summer of next year at the very earliest, appears to be chomping at the bit to return to active competition — with a slew of past-foes and new faces offering the Dubliner a willing dance partner to share the Octagon in his comeback fight.

However, according to Straight Blast Gym leader, Kavanagh, he has his reservations regarding McGregor's willingness to drop a gear in his return and take a perceived "warm-up" fight post-losing skid and injury.

"He's [Conor McGregor] not so much about warm-up fights," Kavanagh told Submission Radio. "He seems pretty warm to me as it is. So, what will come, will come. He's got a hundred opponents lined up it would appear. But let's just get back training, let's test the leg and test everything, and when the time comes, I'm sure he won't be short of choice. Whoever he faces he'll be highly motivated. It's clear at this stage Conor has a few quid, he's got a few dollars in the bank account. So, that's not the motivating factor at this stage, his motivating factor is competition and to improve himself and to test himself against whoever it is."
A notable matchup McGregor appears to have taken interest in, is a rematch against past featherweight champion, Max Holloway — who recently turned in a unanimous decision victory against Yair Rodriguez at UFC Vegas 43 earlier this month. And according to Kavanagh, he believes given the pair's prior championship success, they should likely just agree to compete against each other at a certain weight — rather than cutting weight to link up at a weight class with title implications awaiting the victor.
John Kavanagh urges Conor McGregor and Max Holloway to scrap weight classes for potential rematch

"The funny thing is, I think for guys at Conor's [McGregor] level and Max's [Holloway] level and those guys, I don't even really know why they bother cutting weight anymore, you know?" Kavanagh said. "It's almost like, just let them fight. Cause I'd imagine Max is probably heavier than Conor outside of fighting. I've heard stories of him getting up to really high weight. So, why would they agree to fight and then spend eight weeks trying to deplete themselves, trying to get down to some weight class to fight for some belt?"
"Max has had a few belts, Conor's [McGregor] had a few belts," Kavanagh continued. "So, they've done that. Push that to one side. I don't know if that's important anymore. Just have them fight at their weight, whatever their weight is, Just let them do it. Whatever weight they are, let's go."

McGregor's most recent professional victory came in January of last year in the main event of UFC 246 where he stopped one-time lightweight title challenger, Donald Cerrone with a 40-second high-kick and follow-up strikes in a welterweight headliner. 
Kavanagh's claims that McGregor is against the notion of a warm-up fight in his return, are only further backed up by claims from the latter that he will be competing for lightweight gold immediately in his return to the sport.