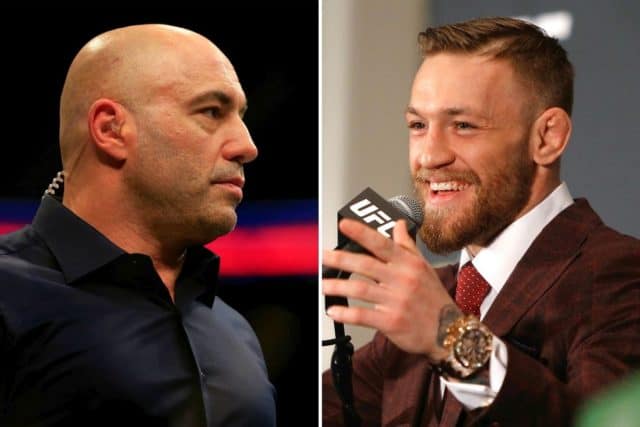 Joe Rogan defends former UFC featherweight and lightweight champion Conor McGregor from criticism about how his latest fight ended. McGregor lost to UFC lightweight champion Khabib Nurmagomedov in the headliner of UFC 229 from Las Vegas, Nevada.
In the fight, Khabib submitted McGregor with what appeared to be a neck crank or face choke. Due to the choke not being under his chin, there have been many fight fans accusing McGregor of giving up early. It would've been a rear-naked choke should the choke be under the chin.
Now, the longtime UFC color commentator is sticking up for the former UFC champion. Rogan spoke about the ending of the fight on a recent episode of his podcast. He claims that McGregor did not tap prematurely.
"He did not tap prematurely," Rogan said.(transcript via Pundit Arena). "He did not defend it though. He was done, he was beaten down. Khabib f**ked him up. There are a lot of people who don't train who think that that was something that you shouldn't tap to. They are out of their f**king minds. That is what is called 'a fulcrum choke'. It's not necessarily a choke. But it really feels like your head is going to pop off."
Rogan Breaks It Down
Rogan continued by stating that McGregor waited until he couldn't take it anymore more and tapped.
"If you look at what Conor did, he just waited until he couldn't take it anymore more and tapped. That was a perfect example of a fulcrum choke, a neck crank. It doesn't have to be under the chin. It can be on the face and you're going to get f**ked up."
Rogan also stated that anyone who has doubts about the intensity of the choke needs to try the experience for themselves in order to understand the pain.
"All those folks out there saying it wasn't a choke need to go have someone apply that to them. They need to start training jiu-jitsu and stop talking about MMA submissions. Not everyone is going to tap to that. Some others, unlike Conor, are going to be better at defending them. People tap."
If you enjoyed this story, please share it on social media!