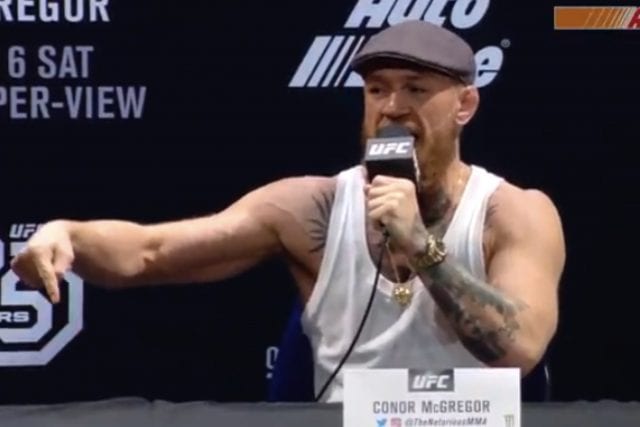 Conor McGregor's attorney, Michael Mersch, has made it known that he hopes that all the cornermen involved in the UFC 229 brawl should take responsibility for their actions.
On Wednesday, the Nevada State Athletic Commission (NSAC) held a hearing regarding this incident. At the meeting, it was revealed that they would extend the temporary suspensions given to both McGregor and Khabib Nurmagomedov.
Following the main event fight, the UFC lightweight champion went flying out of the Octagon. He got into a brawl with some of McGregor's teammates, mainly training partner Dillon Danis. There were many people trying to calm down the situation at the UFC 229 pay-per-view event. There were also some cornermen involved in the brawl.
McGregor and Khabib must face their punishment when they find out actual sanctions from the NSAC later this year. The commission will meet on December 10th where they will decide the fates of the two UFC stars.
NSAC chief Bob Bennett has made his stance known by stating that he puts part of the blame on both fighters' managers.
McGregor's Attorney Fires Back
However, McGregor's attorney and former UFC legal counsel member, has fired back with a statement of his own. Those comments are about the cornermen taking the blame as well:
"But for the actions of Mr. Nurmagomedov, none of this would have happened." Mersch said (via MMAjunkie). "I hope the commission will not just focus on the two fighters in this case. Because I think the commission has a history of looking at the actions of corner people, as well."
UFC featherweight fighter Zubaira Tukhugov is a cornerman in question as he jumped the cage and blindsided McGregor. This was in the middle of the chaos that ensued. Mersch stated that although he's not sure who was involved in the brawl, the NSAC can get those names:
"I don't pretend to know the names or functions of every single person that was in and out of the octagon post-fight. But I assume that at least some of them were licensed by this commission."
Mersch continued by stating the NSAC always looks at activities above and beyond the fighters themselves in these cases:
"And this commission, whether it was in the Zab Judah hearings, or the Mike Tyson 'Bite Fight.' The commission looks at activities above and beyond the fighters themselves. Once I have a complaint, we're happy to address it with them."
If you enjoyed this story, please share it on social media!