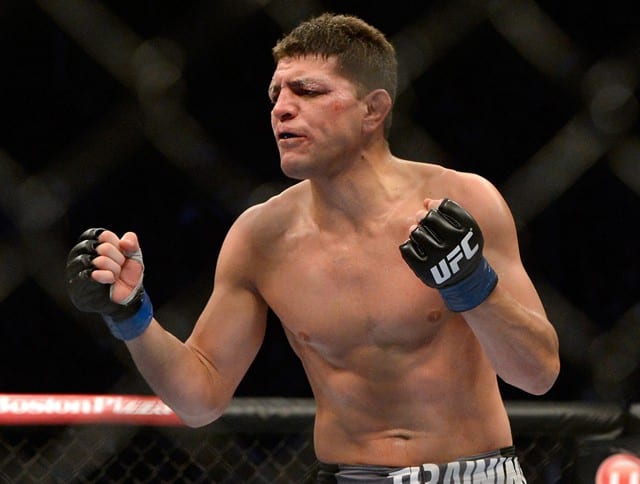 The mixed martial arts world was up in arms, and absolutely shocked by the decision of the Nevada State Athletic Commission (NSAC) yesterday (September 14, 2015) to suspend UFC welterweight, and middleweight Nick Diaz five years for his UFC 183 drug test in which he tested positive for Marijuana metabolites.
Diaz came prepared with a strong defense, but it seemed as if he was just thrown to the wolves, as the commission appeared to be out to get him. Although it was the Stockton native's third offense, all for Marijuana, the punishment is rather outrageous, and unfair to be realistic.
Diaz's UFC 183 opponent Anderson Silva also tested positive, but for multiple performance enhancing drugs (PEDs), and "The Spider" was only given a one year suspension which makes matters worse.
After the decision, twitter blew up with fighters, fans, and media members all taking shots at the commission, and voicing their support for Diaz with the trending "Free Diaz" hashtag. It seems as if the whole fighting community agrees that the punishment is completely out of line, and UFC color commentator Joe Rogan is no different.
Rogan took to his official twitter account to bash the NSAC, saying that the commission abused their power, also calling the decision idiotic, and sickening:
NSAC suspending Nick Diaz for 5 years for pot is an irresponsible abuse of power. It's callous, idiotic and sickening.

— Joe Rogan (@joerogan) September 15, 2015
Unless there's scientific proof that marijuana is a performance enhancing drug that gives an unfair advantage it should not be restricted.

— Joe Rogan (@joerogan) September 15, 2015
Rogan is prone to say some outspoken things at times, but I think many would agree with his assessment, and it shows as thousands of fans have already signed a White House Petition backing the Stockton bad boy.
Diaz's team has said they will appeal the decision, and hopefully the punishment will be overturned to a justifiable one.
Will we ever see the outspoken, and highly entertaining Diaz in the cage again?