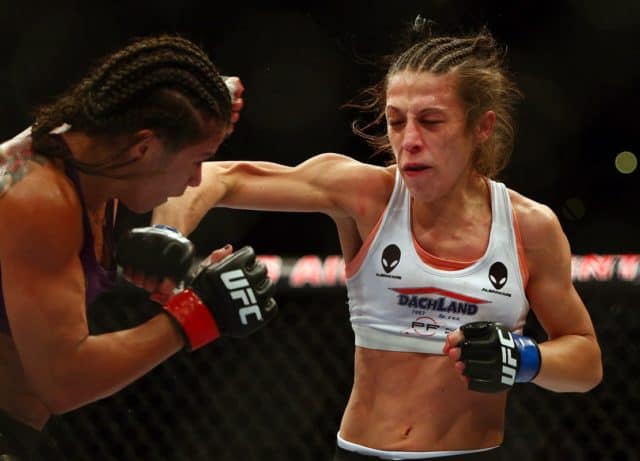 Joanna Jedrzejczyk and Claudia Gadelha put on an all-time classic title fight in the short history of the UFC women's strawweight division in the main event of last night's (July 8, 2016) The Ultimate Fighter (TUF) 23 Finale from the MGM Grand Garden Arena in Las Vegas, Nevada.
'Joanna Champion' successfully defended her belt for a third time by beating her archrival and opposing TUF 23 coach Gadelha in a back-and-forth affair that Gadelha largely controlled with her wrestling and grappling in the earlygoing.
But the grind of the endless takedown attempts and clinch seemed to wear on Gadelha, as she seemed to tire and leave an opening for a much fresher Jerdzejczyk to land an absolute outpouring of significant strikes in the second round.
With the defining win over her closest competitor, Jedrzejczyk has cemented herself as one of the most dominant champions in all of the UFC, trailing only flyweight champion Demetrious Johnson for the most title defenses in a row in the UFC. Watch the highlights of her telling win over "Claudinha" right here:
If you enjoyed this story, please share it on social media!