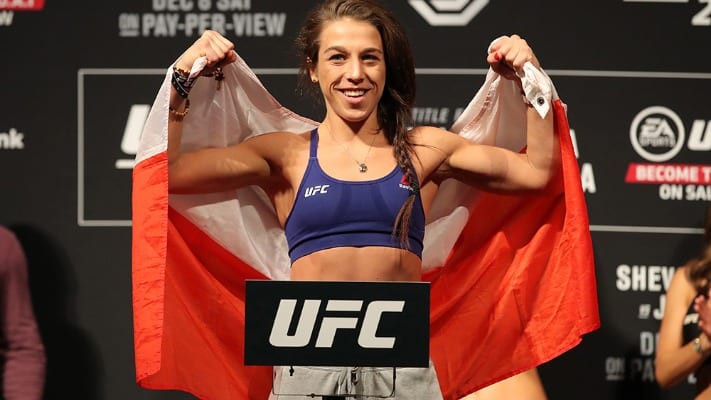 Joanna Jedrzejczyk's win over Michelle Waterson did not come without some problems.
Although Jedrzejczyk won by unanimous decision and won 50-45 on two scorecards, she revealed after the fight she broke her foot. It became apparent entering the fourth round that something was wrong with her foot as it had swollen up massively.
"I think I broke [my foot] at the end of [the] second round or the third round. In the fifth round I was like, 'Ok, I shouldn't kick with this foot.' I felt pain. But then I was like f*ck it, what's the worst that can happen? I'm going to break it in three pieces, they're going to put it together," Jedrzejczyk said after the fight (h/t BJPENN.com).
"That's a tough business. Honestly, I don't like myself from the Octagon being injured with the crutches, but it's my job. Big hobby, big passion, crazy passion, crazy job, but this is how we make money, baby. I love it. I will go to the hospital tomorrow morning, now I want to rest."
With the win, all signs point to Jedrzejczyk getting the next title shot against Weili Zhang. She called for the matchup after her fight, and said beforehand, in her contract, a win gets her a title shot.
If the broken foot will change those plans, as the Polish star will now be sidelined, is to be seen. But, if Jedrzejczyk vs. Zhang is next, it would no doubt be a very interesting fight and would be a striking delight.

What do you make of Joanna Jedrzejczyk breaking her foot during her fight with Michelle Waterson?