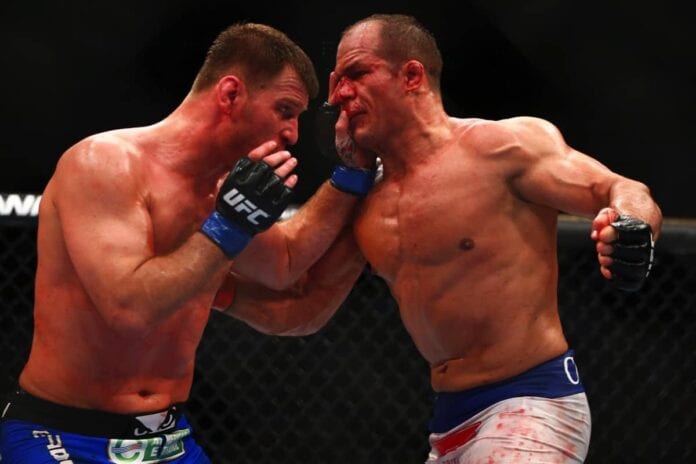 No. 4-ranked UFC heavyweight Junior "Cigano" Dos Santos recently bounced back with a vintage one sided decision victory over the previously surging Ben Rothwell in the main event of UFC Fight Night 86 last April.
Dos Santos underwent shoulder surgery after the bout that has put him on the sidelines for the immediate future, but he should return within the coming months to a big fight in the suddenly booming heavyweight division.
A new champion was recently crowned in the division as Stipe Miocic knocked out Fabricio Werdum in the main event of May's UFC 198 to steal the title.
Miocic will next defend his newly acquired strap against long-time veteran Alistair Overeem in the main event of September's UFC 203.
Dos Santos has done battle with both men, getting the better of Miocic in a five round slug fest back in December 2014, and suffering a brutal knockout loss to Overeem in December 2015.
JDS respects Miocic and feels as if he'll get by Overeem, but he also feels as if he'll be the man to take the belt from the Croatian:
"Miocic is a great athlete, he gave me one of the toughest fights of my career, he hits really hard and I think he will hold that belt for a long time, until he meets me again. He lives a great moment and I don't think he'll make the same mistakes I made against Overeem, like respecting him too much and giving him too much space." Dos Santos told Portal do Vale Tudo.
"Cigano" previously expressed interest in fighting Werdum, a man he had knocked out years ago, but the former champion confirms that it wasn't personal, as he's simply focused on recapturing the title:
"My will is to fight for the belt. He had the belt so I wanted to fight him, but now he doesn't have what I want anymore, so he doesn't matter to me. If the UFC decides I should fight him, I will. I confess I will even like it, it has the potential to be a great fight."

Will the Brazilian slugger get his chance to reclaim heavyweight gold in the foreseeable future?