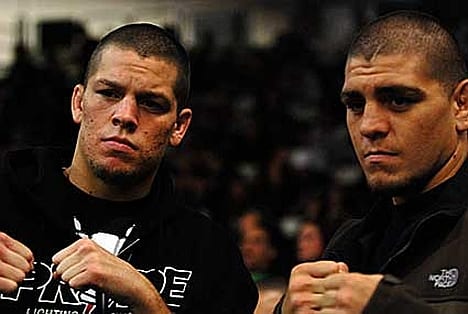 Jake Shields opens up on why the Diaz Brothers haven't fought in so long under the UFC banner. Shields should know this better than almost anyone as he has been a longtime training partner and friend of these two popular stars.
Nate Diaz was supposed to fight Dustin Poirier at UFC 230 earlier this month. However, that bout was scrapped after Poirier pulled out. Diaz has not been seen in the Octagon since his rematch with Conor McGregor back at UFC 202 when he suffered a majority decision loss five months after he submitted McGregor in their first bout at UFC 196.
On the flip side, Nick has been tied to a UFC 235 pay-per-view bout with Jorge Masvidal but the UFC has yet to announce the fight. Diaz has not been seen in the Octagon since his bout with Anderson Silva in January 2015. This fight was later overturned to a no-contest after Silva tested positive for banned substances.
Jake Shields Tells The Reason
Shields talked about their absence from competition during a recent interview (H/T to Bloody Elbow).
"I still go back to California to train with Nick and Nate Diaz. I have trained with them a lot. Currently, I am in New York so I'm not training with them as much," Shields added. "I have trained with these guys non-stop for years now. I think they both want to fight still, just not as often."
The former UFC title contender would continue by stating that Nate and Nick are just looking to get paid the most for their next fight. Also, Nate wants a third fight against Conor McGregor.
"Nate is just waiting for the Conor fight or big fights, and same with Nick. He was just waiting for big fights. They both had great careers already. So they are just looking for the big money fights now."
If you enjoyed this story, please share it on social media!