Jake Paul vows to drop Nate Diaz on his head in MMA rematch after choke attempt in boxing clash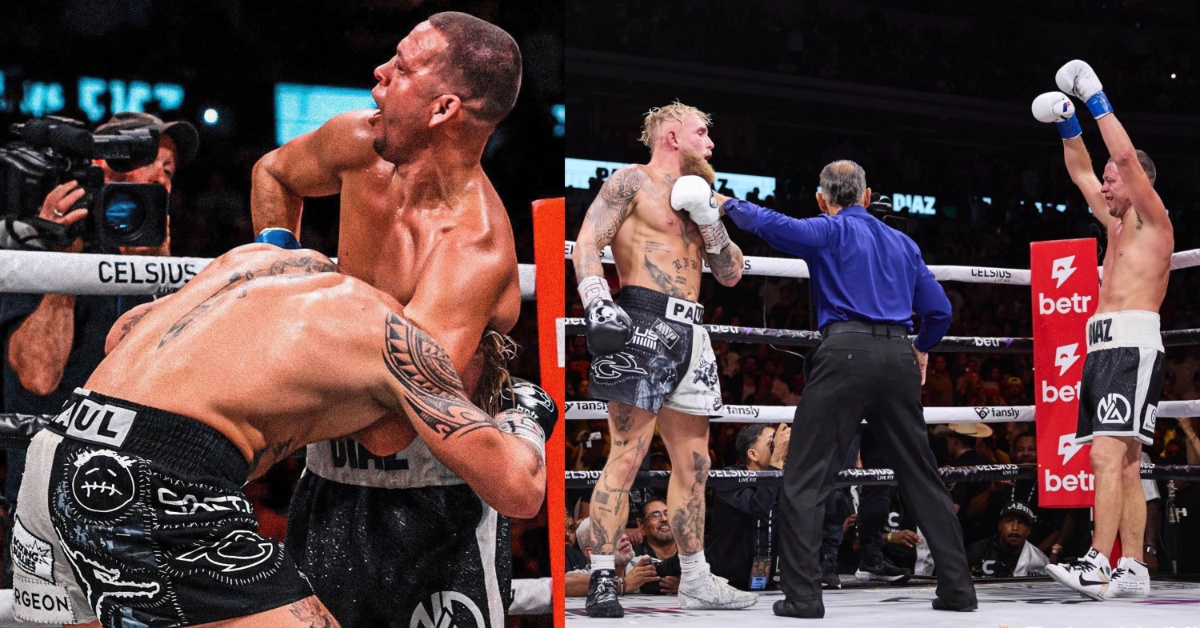 Jake Paul already has a game plan if Nate Diaz ever tries to put him in a guillotine choke again.
Saturday night's long-awaited boxing clash between Jake Paul and Nate Diaz certainly delivered on the hype, with 'The Problem Child' coming out on top via a unanimous decision. Following the bout, Paul once again offered the 'Stockton Samurai' a cool $10 million for a rematch in mixed martial arts. Diaz seemingly accepted the offer while in the ring, but apparently, the kid from 209 was already trying to put some MMA moves on the social media star during their boxing bout.
"I wasn't trying to, but I had a single leg in the first and a choke in the ninth, so I already won that battle," Diaz said, referencing moments in the fight where his MMA instincts began to take over.
Later that evening, Jake Paul revealed to members of the media that not only did Nate Diaz have him in a guillotine choke, but that the TUF alumnus really cinched it in before being broken up by the referee.
"He f*cking choked me! He was actually choking me. I was like, 'This is crazy.' I didn't think he was gonna stop, but he had it in," Paul revealed during an appearance at the post-fight press event. "That's why I want to do it back in MMA. If it was MMA, I would have dropped to a double-leg, picked him up, and dropped him on his head."
Will We See Jake Paul and Nate Diaz Run It Back in MMA?
With his seventh-career win in the books, Jake Paul will likely turn his attention toward his mixed martial arts debut. Earlier this year, 'The Problem Child' revealed that he had signed with the Professional Fighters League with plans to step inside the patented Smart Cage in early 2024, presumably on the same night that another blockbuster signee, Francis Ngannou, will make his own PFL premiere.
Paul clearly wants Nate Diaz to be his opponent, laying down a guaranteed $10 million payday to sign on the dotted line. Diaz has mostly remained non-committal when asked about the offer. However, on Saturday night, Diaz seemingly accepted the offer as long as it can be a co-promotion with his own company, Real Fight Inc.
Do you want to see Nate Diaz step inside the PFL Smart Cage with Jake Paul next year, or is it time for the 'Stockton Samurai' to return to the UFC after his brief excursion in the sweet science?