Jake Paul promises to win world championship by 2026 following decision win over UFC alum Nate Diaz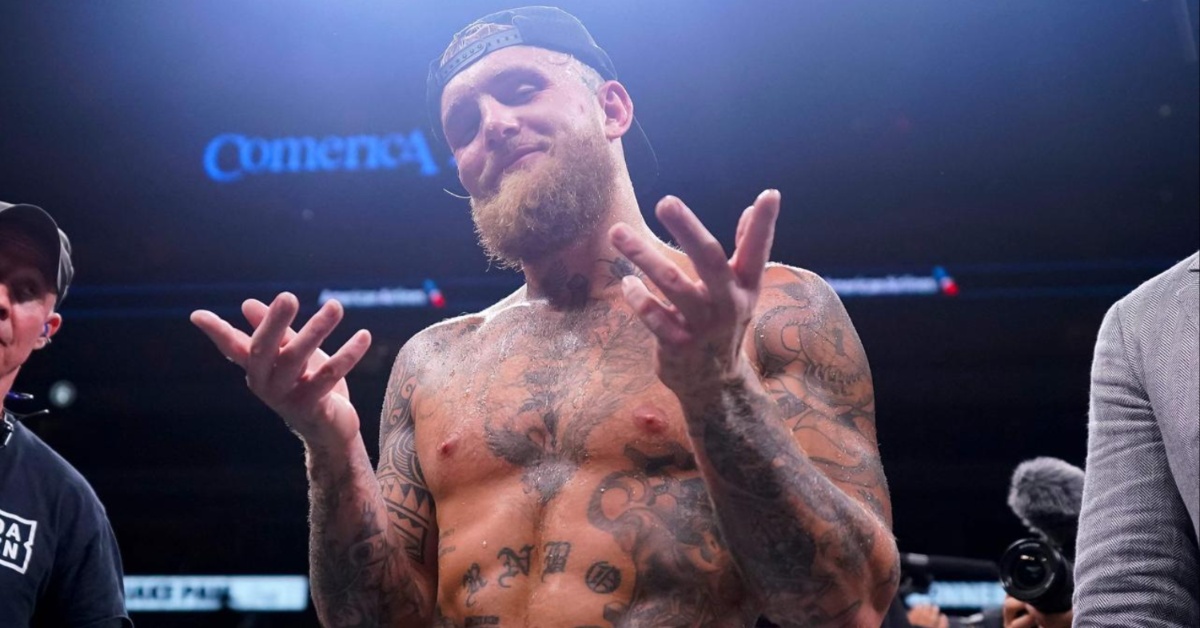 The one and only Jake Paul appears to be feeling extremely confident after his win over MMA legend Nate Diaz last night on August 5th. In fact, he's feeling so confident that he isn't even hesitating when claiming he will become a world champion in boxing by 2026.
Paul and Diaz threw down in what was a mediocrely hyped event. It didn't really live up to its potential, hype-wise or fight-wise. There were some great moments, sure. Fans went absolutely wild for some reason when Diaz held Paul in a guillotine for a few seconds. It was a boxing fight, but fans sure got excited about it as evidenced by all the viral posts depicting Diaz holding Paul in the choke.
The facts stand as this: Paul and Diaz threw down for 10 rounds. Diaz got knocked down multiple times by a Youtuber turned boxer, but didn't really get cut up badly, which fans were also extremely excited about for some reason. The entire show was a little melodramatic. For two bonafide showmen such as Jake Paul and Stockton's own Nate Diaz, the hype leading up to the fight and the fight in general really could've been so much more exciting.
This isn't by any means a knock on either man. They both stepped into the squared circle and gave a respectful showing. However, many felt disappointed when lost in thought about "what could've been".
Jake Paul makes lofty aspirations known after Nate Diaz fight
"How many rounds did your favorite boxer fight for in their 8th pro fight?" Most Valuable Promotions, a Jake Paul-owned company, stated in a Twitter Post. Gervonta Davis 4rds – Terence Crawford 4rds – Canelo Alvarez 6rds – Floyd Mayweather 6rds – Anthony Joshua 8rds – Tyson Fury 10rds Jake Paul, with just 1 amateur fight (Jake Paul) went 10rds in his 8th fight. #win"
Jake Paul didn't hesitate before sharing this tweet, with a caption of his own. "Facts," Paul replied in his own caption. "All great fighters. My path may be different but the destination is going to be the same. World champion by 2026."
So, obviously, Jake Paul has some lofty goals. To become either an MMA or boxing world champion would take a ridiculous amount of time and skill. Paul is used to being counted out and doubted. Herein lies the secret to his gimmick. He is a literal heel, just like the wrestling terminology. Meaning: he's meant to be hated. That's literally his entire gimmick.
So, it makes the most sense for him to do things such as reply to a tweet made by a company he owns (which painted him in an appealing spotlight) with an equally ridiculous tweet that also paints him in an appealing way. It's just his marketing and business strategy at this point. Paul is thriving and making literal millions off of being detested by fans in the same way that legendary heels like Edge, Randy Orton, and countless other WWE 'bad guys' made millions off of being similarly disliked and booed.
As the saying goes: "Don't hate the player, hate the game." Right now, Jake Paul is making a killing off of abusing the emotions of fans. People want to see him win or lose, but what matters is that they care. It seems like the Paul brothers won't be going anywhere soon. and their antics will most likely only grow wilder and more desperate with age.
How do you feel about the Jake Paul vs Nate Diaz fight, and do you think Paul will become a champion in MMA or boxing by 2026?