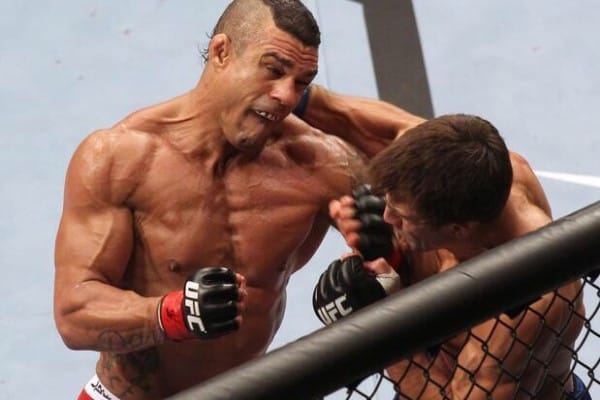 Somewhere down the line, someone has to say enough is enough, and for the UFC to ever become a regular mainstream sport, they need to cut ties with some big names….
The name Vitor Belfort doesn't have the same ring in the MMA world as it used to. Ask any late 90's mixed martial arts fan who the Brazilian 'Phenom' was and they'd tell you he was a killer knockout artist who'd just won the UFC heavyweight tournament with two TKO's in one night. Now days, he has a much more sinister and negative reputation.
Of course we are talking about steroid abuse and TRT (testosterone replacement therapy), and Belfort's jaded history with both of the controversial performance enhancing drugs. A brief look back over his record and portfolio will show all the red herrings of a life long cheater, and that's a very scary prospect considering his vocation.
Failing his first steroids test before the year 2000, Belfort would again get popped after his Pride FC 32 decision loss to Dan Henderson, this time for elevated Testosterone levels. Not welcome in the Zuffa family just yet, Belfort suddenly turned to a flabby version of himself as he travelled the world fighting for Cage Rage and Affliction.
Looking a little more shredded, Belfort returned to the UFC in 2009 to face and defeat Rich Franklin by TKO, then a much more ripped version of Belfort showed up to face Anthony Johnson and Jon Jones in 2012, the latter causing much controversy in recent weeks. After nearly submitting 'Bones' at UFC 152, the Brazilian striker was himself tapped out by a Jones Americana. The debate of Belfort's physique that night caused a huge stir when a deadspin article revealed shocking emails sent between UFC officials regarding an allegedly failed dope test before the title fight with Jones.
We haven't even touched on the subject of TRT yet, as an even more bulky and ripped 'Phenom' ran through Dan Henderson, Michael Bisping and Luke Rockhold in 2013, before admitting he was using the 'legal' form of testosterone booster to assist with a physical ailment. Clearly abusing the form of medical treatment that was already highly debated at that stage, Belfort would go nearly two years without fighting while admittedly failing more drug tests in the time between.
Clearly needing some time to get the juice out of his system, the Brazilian former two-weight boss would return at UFC 187 in May 2015, looking like an average size welterweight and getting squashed by the champion Chris Weidman. Then came the sensational allegations that the UFC had covered up his pre-UFC 152 dope test failings, also that his test levels were that of a 21-year old man after UFC 187, and then that Belfort has discovered a new version of TRT that isn't outlawed.
All of a sudden Belfort is looking more like the hulk ahead of his trilogy maker with Hendo at UFC Fight Night 77, meaning Dan may be facing Belfort for the third time on some sort of performance enhancing drug. So the case is made, it's now time to consider why the UFC keeps Belfort fighting.
He is stepping in to the arena of combat, with all the tools to kill a man if he needed to, and it appears the UFC is turning a blind eye to Vitor Belfort's years of steroid and testosterone abuse. He permanently disfigured Michael Bisping with a head kick that detached the British middleweight's retina, isn't that enough?
What's it going to take for the promotion to put an end to this? It doesn't pay to think.