Holly Holm welcomes future rematch with ex-UFC champion Ronda Rousey despite nixed Octagon return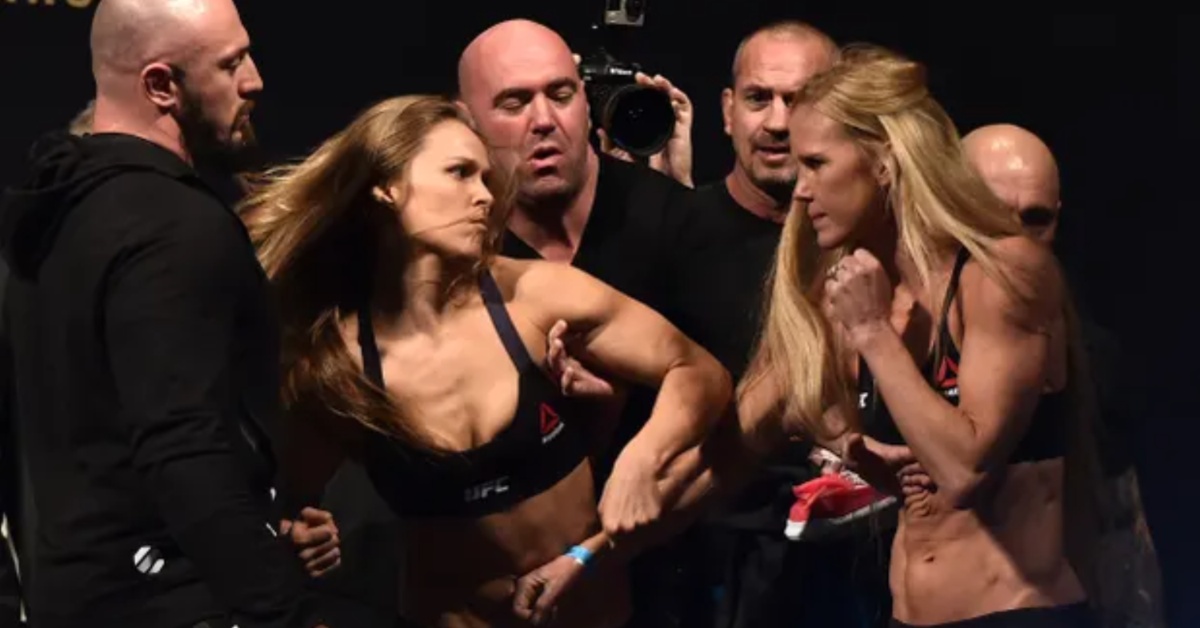 Despite rumors of a potential Octagon comeback of inaugural bantamweight champion, Ronda Rousey put to bed earlier today, former opponent and fellow prior titleholder, Holly Holm has welcomed the possibility of a rematch with the Californian in the future.
Holm, the current number three ranked bantamweight contender, is slated to make her Octagon return this weekend atop a UFC Vegas 77 card at the UFC Apex facility, taking on surging Brazilian upstart, Mayra Bueno Silva.
Booking her second Octagon walk of the year, Albuquerque veteran, Holm most recently returned at UFC Fight Night San Antonio back in March, turning in a unanimous decision win over former featherweight title challenger, Yana Santos.
Turning in a memorable championship outing against the then-undefeated, Rousey back in 2015 at UFC 190 in Australia, former boxing world champion and Hall of Fame inductee, stopped the undefeated title reign of the former with a second round high-kick KO.
As for Rousey, the Californian professional wrestler – who has been continually linked with an Octagon return in recent weeks, particularly in a potential featherweight limit landing, is reportedly "not considering" a return to mixed martial arts at the time of publication. 
Holly Holm entertains potential re-run with arch-rival, Ronda Rousey
However, speaking during her media availability ahead of UFC Vegas 77 this weekend, Holm, who is chasing a vacant bantamweight title fight with a victory over Silva this weekend, has welcomed the possibility of a future re-run with Rousey.
"I don't know if she'll (Ronda Rousey) really come back," Holly Holm told assembled media. "I mean, who knows if it's just talk? I know she's a very competitive person. There's a reason why she was an Olympian and there's a reason why she was a champion for so long."
"I would absolutely revisit that fight and at either weight [bantamweight or featherweight]," Holly Holm explained. "I don't really think that's an advantage or disadvantage depending on the weight. We'll see if she comes back. I know that she's been pretty busy with her life and whatever she wants to do. More power to her – but if she comes back, that would be great to fight again." (Transcribed by Sportskeeda)