Henry Cejudo Willing To Stand By Nick Diaz, Even If He Loses UFC Title Shot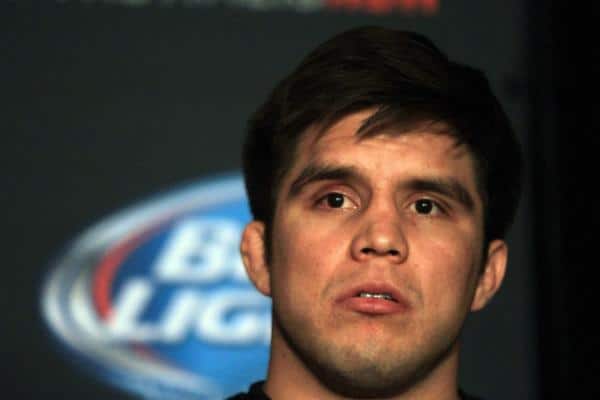 UFC flyweight and Olympic medallist Henry Cejudo has taken a stand, supporting Nick Diaz after the controversial NAC (Nevada Athletic Commission) to ban him for five years. $150,000 in fines for his failed UFC 183 drug test rubbed salt in the wounds, and has led to Cejudo, Leslie Smith and Aljermain Sterling all boycotting Nevada. Although they don't represent the biggest names in the promotion right now, certainly 'The Messenger' could be granted a title shot if he beats Jussier Formiga in November.
So what if the UFC offers Cejudo a title fight in Nevada? The popular 125-pounder stands by his decision, as he tells Ariel Helwani that it's a matter he holds very close to his heart. An emotional 'Messenger' talks openly during today's (Monday September 21, 2015) edition of The MMA Hour, here are the best bits as transcribed by yours truly:
"You think of some of the great leaders-Mandella, Martin Luther King, these guys never really fought back with fists. They came back with protests. The NAC will someday need an elite fighter to be there, and they may not have them. I'm not here to start a rally, we have a big UFC coming up in December and I don't want to sidetrack that event. It's just my personal opinion, I'm willing to pass up on a title shot if that has to happen. I'm very touched by what happened to Nick Diaz. I'm not here to start a domino effect, but if it's heartfelt you should do it. It might be time for a union, because this is unjust. I think maybe it's time for a union."
You have to respect Cejudo for standing by his morals and ethics, especially when you consider a chance at UFC championship glory hangs on the decision he's made. He continues, making comparisons between Diaz's case and the boxing biopic 'The Hurricane':
""I'll talk to Dana White about it. He hasn't spoke to me about it yet, we don't have a personal relationship but I would say no. I know what it feels like to be the best in the world, I won the Olympics at 21, it's not all about success for me, I need to do what's right. I know I'll be UFC champion one day, but I'm willing to protest for a man who's been wrongly banned for five years. He took the 5th amendment, you see he is a very emotional guy, but I think the way the NAC handled the situation it was terrible. It reminded me of 'The Hurricane' with Denzel Washington. He was wrongly accused for murder, and I feel the NAC targeted Diaz that night. He was made to take three tests, he passed the first and they made him piss two more times. It's wrong."
As well as the previously mentioned fighters, bantamweight queen Ronda Rousey, and nearly all the UFC roster has spoken out against Diaz's ban. Cejudo is aware that the NAC's verdict is bringing fighters together, but feels that talk of a union might prove costly at the moment:
"It might be a little dangerous to be talking about a union right now, because someone from the UFC might slap me, but we may need to get something going here. You just never know who is next. I know Jose Aldo has been trying to talk about this, but something needs to be put in place. Maybe it's Henry 'The Messenger' that needs to kick it off. This is out of the kindness of my heart, he should probably pay some costs but a $150,000 fine and 5-year ban. I feel bad for the man, I would rather die on my feet than die on my knees. I can wait (for the title shot). I'm American with Mexican descent, I can fight in Mexico you know?"
"That's my final decision. Success is cool, my biggest thing now in life is how I can help others. As far as Jussier Formiga, he's fought some other fighters before, and I think he is really good, but he's never really seen a serious fight like me before."
Massive props to Henry Cejudo, who is standing by what he believes in regardless of the costs. The question now is whether anyone else will join suit and, even if they do, will it make a difference?
If costs start to incur for the Zuffa brass in terms of complicated logistics due to the boycotting of Nevada, perhaps then the Fertitta brothers and Dana White will change their somewhat nonchalant stance on the matter.