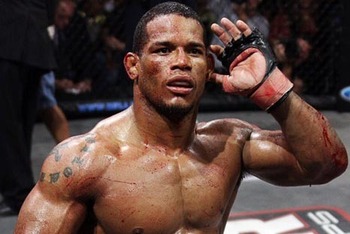 Hector Lombard and Jake Shields will face each other this Saturday at UFC 171, and the stakes are pretty high in this bout. Lombard is ranked at number 12 in the stacked welterweight division and Shields resides in the loftier #6 spot for his troubles. On paper, Lombard is the underdog, but I feel the reality is somewhat different.
The two have contrasting styles; Shields is an ace grappler, whereas Lombard is a knock 'em dead style slugger. Let's take a look how there styles stack up:
Stand up
Although we have seen improvements in the striking game of Jake Shields, the Cesar Gracie Jiu Jitsu fighter is at a thorough disadvantage against the heavy handed Cuban Hector Lombard. 'Lightning' has managed to carry his vicious KO power down from his early days as a light-heavyweight to his current status as a scary 170-pounder.
I'm not saying that Shields has a suspect chin by any means, but Lombard's fists don't really discriminate. Shields' three TKO wins and tentative stand-up style don't measure up too well against Lombard's 19 T/KO's and vicious power punching style. I'll call it 80-20 Lombard
Wrestling/submissions
A lot of people seem to be giving Shields the nod in the wrestling & submissions game, but I feel they couldn't be more wrong. Lombard was formerly an Olympic Judoka, and has won more than 20 medals in national competitions. 'Lightning' also holds a black belt in Brazilian Jiu Jitsu, but I also think his strength as the naturally bigger man will come in to play here.
Shields' pedigree in this department is of very high quality; a former Division II All-American wrestler and Pan American Jiu Jitsu champ, he hones his game with the notorious Diaz brothers over at Cesar Gracie's famous fight club. In American style wrestling Shields has the nod, in Judo style it is clearly Lombard and they are both gifted Jiu Jitsu practitioners.
Shields has been described as one of the best grapplers on the planet, but 'Lightning' is heavy set and explosive, and his Judo base is made for countering those deep double-leg shots. All things considered, I'm actually going to call it 50-50
What we have here is a case of a technically gifted wrestler/submission expert vs. a physically scary, powerful knockout machine. My opinion? Advantage Lombard.