Heavyweights! Andrei Arlovski vs. Josh Barnett Fight Breakdown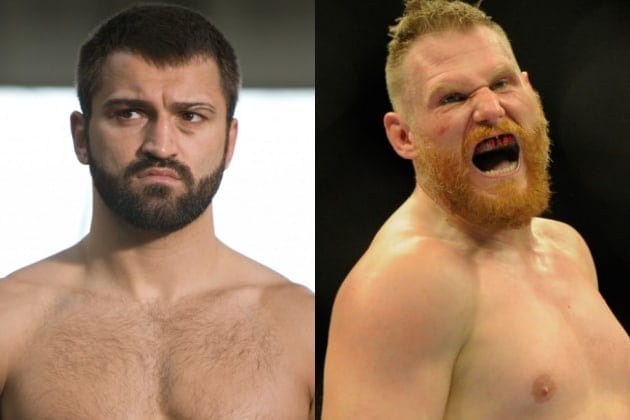 Two heavyweights are looking to rebound and get back on track in the division when Andrei Arlovski meets Josh Barnett in the main event of this weekend's (Sat., September 3, 2016) UFC Fight Night 93 from the Barclaycard Arena in Hamburg, Germany.
Let's break it down.
Striking:
Barnett may not be the flashiest striker in the heavyweight division, but he's competent enough to use his skills to get the fight where he wants. Barnett's punches may not be as stylish or vicious as Arlovski, but they are still full of power and can hurt. The best strategy for Barnett is to use his striking to close distance and get Arlovski against the fence. Then the "Warmaster" has options. He can open up a bit if he wants, continue to grind on Arlovski with short elbows and knees, or try to take him down. It is imperative that Barnett move forward and be aggressive. If he's moving forward, it'll be harder for Arlovski to tag him.
Andrei Arlovski's striking arsenal is ruthless. He throws wild and looping hooks with a ton of power behind them, along with savage uppercuts. When he smells blood, the "Pitbull" closes distance quickly, not allowing his opponent a chance to recover. Arlovski has always been good at swarming and cutting the cage off while delivering a barrage of punches. Usually, one or two of them eventually get through and drop the poor guy he's facing. Lately though, Arlovski doesn't quite look like quite the striker he used to be. Alistair Overeem picked him apart in May and Stipe Miocic clobbered him in January. Those are the top fighters in this division, but it looks like Arlovski might be starting to decline. Luckily, he still holds the striking advantage against Josh Barnett.
Advantage: 65/35 Arlovski
Wrestling:
This is the best skill in Barnett's toolbox. Starting from a clinch position, Barnett does a great job of positioning himself and making his opponent carry all of his weight. As evidenced in his fight with Roy Nelson, that can tire an opponent out easily. The "Warmaster's" hand-fighting is also top-notch, and allows him to control others easier than most other heavyweights. After he gets the clinch, Barnett has the better takedown game and employs trips and throws more often than power double legs. Once he gets to the ground, Barnett employs a grapple-heavy style of catch-wrestling that is less dependent on posturing up and throwing strikes, and more dependent on passing guard and advancing positions. He always stays busy and Arlovski should have a tough time getting up.
Arlovski uses his wrestling backwards. Similar to a fighter like Chuck Liddell, Arlovski is best at defending takedowns and keeping the fight on the feet as much as possible. He maintains excellent takedown defense at 83 percent, and that will come into play as Barnett will likely attempt more than a few during their fight. When Barnett is trying to take Arlovski down, the "Pitbull" will have to employ his excellent balance to avoid going down and losing the round. It's quite unlikely that Arlovski will out-wrestle Barnett, so Arlovski's best bet is to disengage quickly and avoid grappling.
Advantage: 75/25 Barnett
Submissions:
This is the main area where Barnett holds a decided advantage. All of that work he puts in on taking top-level opposition down and grinding away their will has resulted in 20 submission wins. Whether its arm triangle chokes, kimuras, Americanas, or rear-naked chokes, Barnett has one of the best submission games in MMA history. He's always looking for the right time to slip an arm under his opponent's neck. Arlovski is going to have to be extremely careful if this fight goes to the ground. Again, Barnett is always active and always busy.
However, Arlovski has never been submitted in 38 MMA bouts. That's quite an accomplishment. Yet he's going to have to be at the top of his game in order to keep his record without any submission blemishes. Arlovski is no slouch when it comes to offensively tapping his foes out, as he does have three submission wins on his resume, but his last one was against Tim Sylvia in 2005. Barnett is an entirely different monster than the opponents Arlovski has faced since his return to the UFC. Other than Frank Mir, Arlovski has never fought anyone so well-versed in submissions.
Advantage: 70/30 Barnett
In summation, both competitors have their ways to win and they seem fairly obvious. Arlovski has to keep moving and do his best to stay on his feet, while Barnett needs to drag Arlovski down and keep him there. I think Barnett will be the aggressor and win out over Arlovski's striking.
Prediction: Barnett by third round submission