The United States Anti-Doping Agency (USADA) has certainly ramped up the drug testing in the UFC since the two parties started working together in July 2015. We've seen multiple big name fighters get popped in recent months, and it's unclear if this trend will continue.
One big name fighter that tested positive for multiple banned substances in 2015 was former longtime middleweight champion Anderson "The Spider" Silva, although the Brazilian legend was lucky enough to avoid the wrath of USADA given that his failed test came in January of 2015. That doesn't mean that the third party testing organization hasn't kept a close eye on him, however.
In fact, according to a chart constructed by Amy Kaplan of Champions.co, "The Spider" has been the most tested fighter of the year: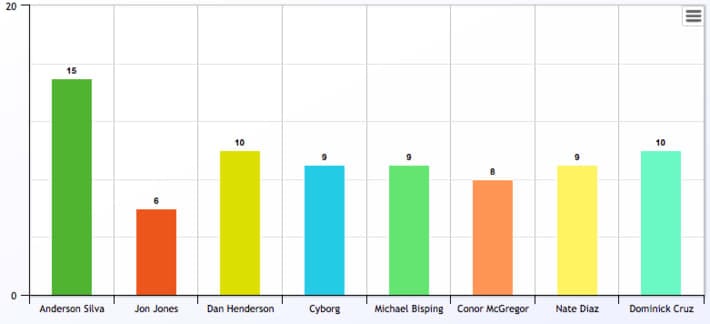 Longtime veteran Dan Henderson and reigning bantamweight king Dominick Cruz did not fall far behind Silva.
After failing his drug test surrounding his UFC 183 bout with Nick Diaz, Silva was suspended one year by the Nevada State Athletic Commission (NSAC). He returned last February and dropped a somewhat controversial decision to current 185-pound titleholder Michael Bisping. The Brazilian then dropped another decision to light heavyweight king Daniel Cormier on just two days' notice at July's UFC 200.
Despite being tested quite often, Silva hasn't had any more issues regarding failed drug tests, and at 41 years of age, it's expected that he will indeed fight again.