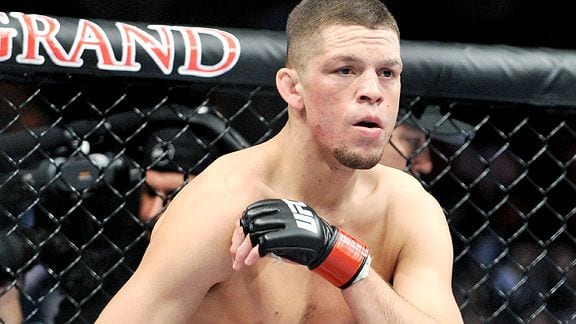 UFC lightweight contender Gilbert Melendez is renowned for his aggressive style and exciting fights. "El Nino" has some of the best training partners to bring out his style, in notorious Gracie BJJ products Nick and Nate Diaz. During the latest season of TUF, Melendez has brought both men along as coaching assistants, to rival his future opponent and lightweight champion Anthony Pettis.
Speaking with MMAFighting.com, Melendez says that he brought Nate Diaz along to get inside the head of "Showtime", check it out:
"I had Nate Diaz on the show and the intimidation factor is there," Melendez said. "Heavyweights are afraid of Nate Diaz. They're like 'oh s—,' you know what I mean? I brought Nate out there for that. I brought Nate out, [Pettis] brought 10 dudes. … Even though the contract said you should only bring four people. He had 10 people, I was like, 'ahh, I didn't get the memo.' But those things tend to happen on his side."
Nick and Nate Diaz have always been somewhat heels of the UFC, but as Nick has signed to fight Anderson Silva in early 2015, Nate still remains sidelined with contractual disputes. Apparently there is some pre-existing bad blood between the younger Diaz bro and the 155-pound champion, but Pettis didn't say a word to Nate, this according to "El Nino":
"I don't even know why he keeps bringing Nate up," Melendez said. "He had six weeks to say something to Nate too, and he didn't, so I don't know what he was talking about. It's like when a girl is all 'she didn't say hi to me.' Well, did you say hi to her? That's just garbage. "
"Nate was there," Melendez said. "He was there for me. He was there to back me up. That's how Nate is. He didn't want to be on a TV show for six weeks, it is something he wouldn't do for many people. He really stuck to it and he backed me up the whole time. And yeah, he's not fake at all. He doesn't like Pettis, they were there, he didn't say nothing. He just mugged, that's his culture. "
Could Nate Diaz be setting up a rivalry between himself and the lightweight champion for a future clash? Maybe if Melendez takes the title from Pettis, then Diaz can swoop in and take a big fight against "showtime". All we know right now is that Diaz isn't fighting, but his buddy Gil could be champion very soon….