With news arriving today that former UFC welterweight champion Georges St. Pierre was beginning the USADA testing process, the MMA world is expectedly taking that as one of the more clear-cut signs GSP is returning since he left the sport behind in 2013.
And with the announcement, speculation about just whom St. Pierre could meet in his return is about to reach an all-time high.
There's a possible welterweight title bout with new champion Tyron Woodley, who called St. Pierre out for the UFC's New York debut at UFC 205 from Madison Square Garden this November, but in a revealing recent interview with Bloody Elbow, St. Pierre said he might actually be re-matching the other man Woodley called out after winning the belt, returning bad boy Nick Diaz:
"I have no problem with Nate. It seems to me to me like it's Nick Diaz that is running for another shot at me. I wouldn't mind, I'm not afraid of Nick Diaz, I'll tell you. I am telling you right now: If it's what the fans want to see, I'm in."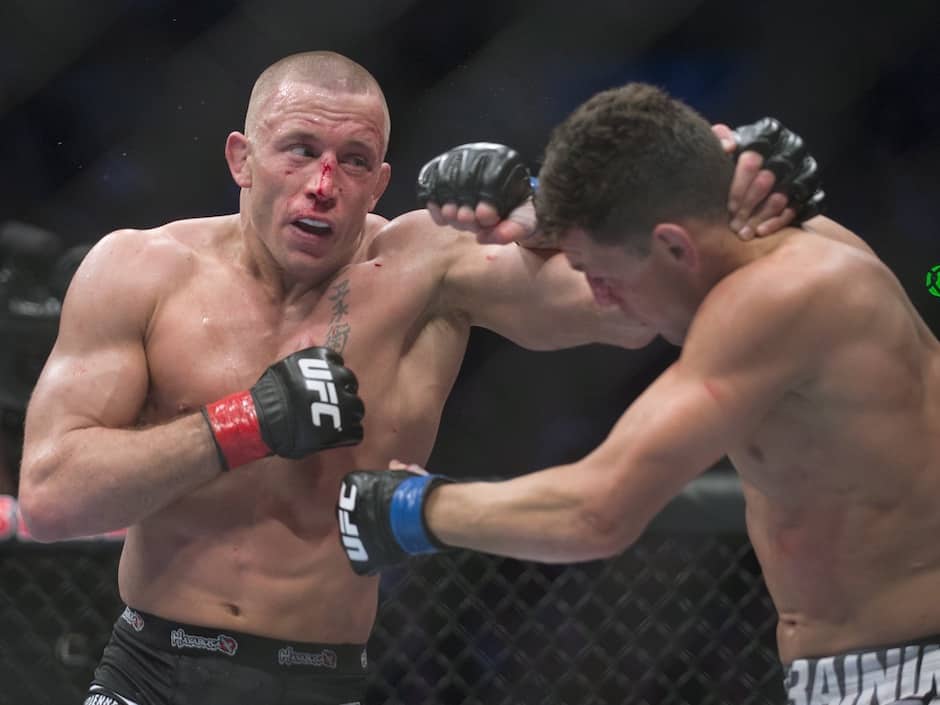 Asked if Diaz would then be his first fight back due to the lengthy history between them, St. Pierre proclaimed he didn't care. After beating the Stockton MMA pioneer, who only just got reinstated from his latest marijuana-related suspension for a controversial drug test failure during his UFC 183 loss to Anderson Silva, so easily at 2013's UFC 158, St. Pierre described a bad taste left in his mouth because he knows he could do better:
"I don't care if it's the first, or second, or third. If they want me to fight Nick Diaz it would be my pleasure. I don't mind, I am not afraid of Nick Diaz, I beat him last time, and I'll beat even worse, I'll beat him way worse next time that I'll fight him.
"I beat him last time easily, but I was not happy – it's one of these fights that I'm not happy with. Because I didn't feel like I gave enough, for different reasons. It left me angry that fight, when I look back at it – maybe I won, but for some reason it left me angry and I feel like I could have done so much better."
There's no question St. Pierre vs. Diaz II is another fight fans would want to see run back, even if the first bout ended in extremely one-sided fashion for GSP. There are legitimate question marks about where both fighters are after their respective periods of inactivity, but there are no questions about the top-level drawing power of both men.
St. Pierre knows that, and he wants to put on the best fight possible for the fans. He also knows that he can still take on the best fighters in the world, and after a lengthy hiatus away from the daily grind of MMA, he claims to be in the best shape ever – both mentally and physically.
That's why he's nearly ready to showcase his skills in an effort to leave everything in the Octagon and have no regrets:
"Yeah that's why I'm doing it. I don't want things that I regret in life, and things that I have not done – and I don't want to at 80 years wake up, and tell myself: 'Oh I was on top of my shape and skills and I didn't do it.' If I come back and I lose, at least I know I did everything I should have done, I have no regrets, I'll be happy. I can die happy. If I never come back, and I'll tell myself I should have done this, I should have done that – I don't want to have regrets."