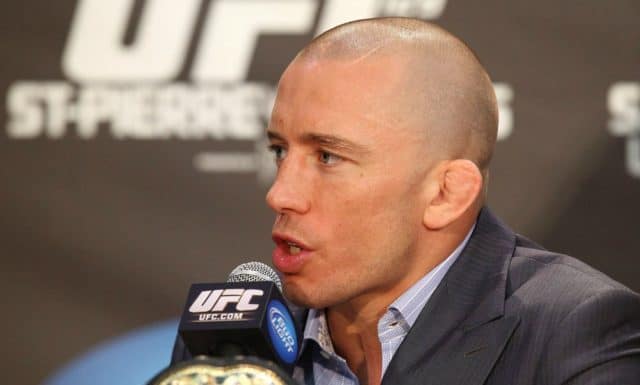 It seems as if every month or so former long-time UFC welterweight champion Georges St. Pierre comments on a potential return and riles up the mixed martial arts (MMA) world, but we have yet to see the Canadian super star return to the Octagon he once ruled for so long.
Times may be changing, however, as "Rush" finally seems ready to make his long-awaited return. Speaking with Ariel Helwani on today's (June 20, 2016) edition of the MMA Hour, St. Pierre admitted that he had done a trial training camp, and that all that was left was to sort out his contract:
"Exactly. That's what I'm saying," St-Pierre, 35, said when asked point blank if he was announcing his return. "I'm ready. I'm an emotional guy. My agents, even before I came on the show today, they briefed me. They said, 'don't say this, don't say that.' They briefed me, they said, 'we're in negotiations, remember, blah, blah, blah.' Like, yeah, yeah, yeah, don't worry, I'm not a kid. But I'm an emotional guy, and when I get emotional sometimes, I say things that are necessarily in the best of my interests, and I'm trying to not go overboard with that.
"But the only thing is, I love my sport and I still feel I'm at my best right now. The clock is running. I'm not getting any younger. I'm in the peak of my career and if there is a shot, there is another goal, another run, I better do it and do it quick, because it is time to do it now."
While confirming his return, GSP also admitted that he has a tremendous amount to lose given that he went out on top, but the Canadian also didn't want to live with regrets:
"I have a lot to lose in this, because I finished on top," St-Pierre said. "I finished as champion, and that's the way everybody would like to leave the sport — on top, healthy, and wealthy — and I did it. If I go back and, it needs to be for something big. I think for my first fight, it needs to be for something big, and that'll give me the swing and the momentum to do it again and again and again for another run.
"So it depends on what it going to happen, but I have a lot to lose, but the thing is also, the reason why I've been thinking of coming back, is I don't want to end up at 80 years old and telling myself, 'I should've done this, I should've done that.' Because all of the things I regret in my life the most, it's not the things that I have done. It's the things that I have not done, the things that I regret the most. So I don't want to end up where I'm too old and say, 'aw, I should've done it. I was in great shape. My timing was impeccable, and I didn't do it,' so I would die with regret."
As for a potential opponent, St. Pierre has actually made headlines recently after he was called out by newly minted 185-pound title holder Michael Bisping. Not only did Bisping express interest in the hypothetical bout, but St. Pierre's camp had reportedly reached out to the Brit as well.
While the clash may not necessarily make sense at first glance, the two men are currently tied for the most victories in UFC history, a title each man is looking to take sole possession of. St. Pierre also claimed that he's in search of a fight that would give him the 'chill's, and "The Count" is the man to beat in his opinion:
"There are two things that I am very proud of, my welterweight title and the record I hold for most wins in UFC history," he said. "Now I have Michael Bisping challenging me for it. But I do not believe that if I fight him he will send me back to a movie set."
"Yes he is bigger, but I have more skill, more athleticism, and higher fighting IQ. The world doesn't turn around me, but if it's a fight that fans and UFC want to make, they got my number, they can call my agent no problem. We can organize to make it happens and make an agreement."
Despite Bisping being the bigger man in terms of size, St. Pierre would be confident in his chances against the Brit:
"I always said I would come back for something big. Bisping is the man to beat right now. He beat Silva, he knockout Rockhold. Rockhold beat Jacare and Weidman," declared the former champion.
"He's bigger, but when I was fighting at welterweight, I never thought about going up and then back down, because I was welterweight champion. Now I'm retired I can make more experimentally. I could fight at lightweight, as well. I can fight at welterweight and middleweight. Even though he is bigger, if we fight, I believe I will beat him."
Another interesting idea brought up by the ex-champion was dropping down in weight as well. Instead of heading up to middleweight, the former welterweight king claimed that he could potentially make 155-pounds as well. St. Pierre said that he currently walks around at about 186-pounds, and that he could safely cut down to lightweight.
While many had likely hoped to see GSP attempt to reclaim the 170-pound throne, it looks as if St. Pierre may be looking elsewhere for his comeback fight, which will be absolutely massive nonetheless.
Check out St. Pierre's full interview with Helwani near the end of the episode below:
If you enjoyed this story, please share it on social media!