Late last night the mixed martial arts world was shook by the news that UFC President Dana White was ready to call off the rumored Michael Bisping vs. Georges St-Pierre middleweight title fight, a bout that had drawn the collective (and increasing) disdain of many fans and fighters alike since it was announced with a high-profile press conference in March.
Many of the top combatants in the stacked middleweight division, including top contender Yoel Romero and former champions Anderson Silva and Luke Rockhold, correctly called it a fight that did nothing but clog up an already crowded title queue, especially considering the fact St-Pierre recently confirmed he would only be ready to fight after October.
So White apparently called the bout off last night, and St-Pierre provided his thoughts on the matter to MMA Fighting, noting that he still wants to fight "The Count" and adding that White may just be speaking from emotion:
"I want to fight Bisping and I think Bisping wants to fight me. I just learned the news. I don't know what to say. It might be an emotional response by Dana or maybe it's to put pressure on me."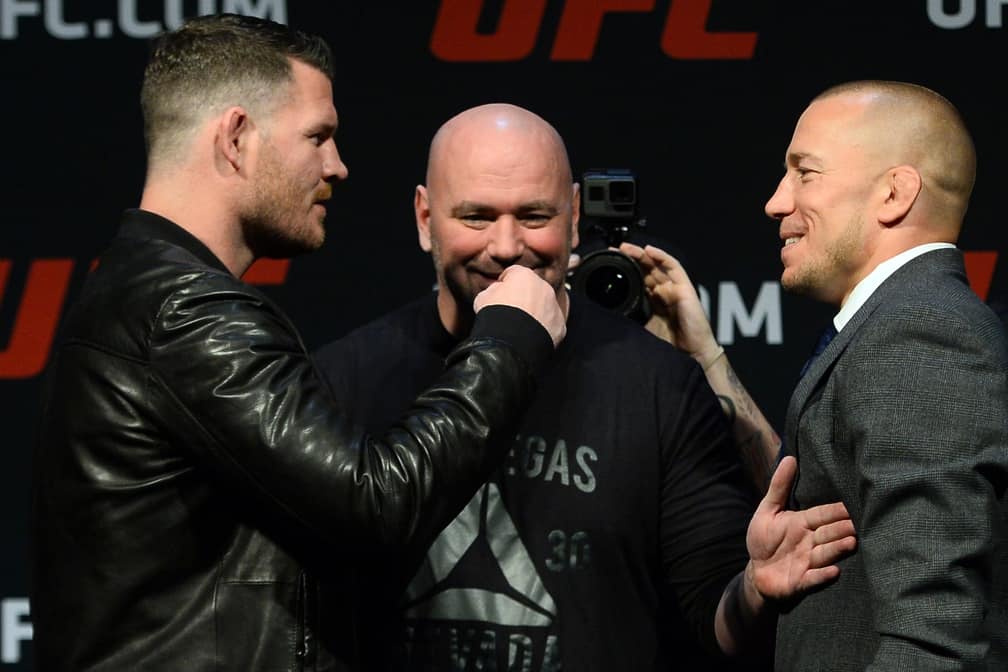 The next 185-pound title shot will reportedly now go to Romero, but it's unclear if St-Pierre, who's said he's only looking for the biggest of fights in his return from a nearly four-year absence, would face Romero for the title if he defeats Bisping as the early odds would have us believe.
Most hardcore fight fans acknowledge the brutalizing "Soldier of God" is far and away the most deserving middleweight contender, but St-Pierre focused on the opinion that those fighters left out in the dark on a big fight are simply an unfortunate result of the individual-focused fight game:
"In this sport, among fighters, when one fighter gets an opportunity, it always leaves more fighters unhappy than happy.

"It's the nature of a one-man sport. I've been there."
That may be true, but it's also hard to justify holding up arguably one of the most talented divisions in the sport to await the potential return of a legendary former welterweight champion who has never even fought at 185. It also opens up the door for the promotion to finally book the long-rumored Silva vs. St-Pierre fight sometime down the road, a guaranteed pay-per-view (PPV_ hit even if would happen five years too late.
That the UFC can get the fans off their backs by giving Romero the fight he's obviously earned, and also gain a super fight that would do much better numbers that Bisping vs. St-Pierre in the first place. It kills two birds with one stone, as they say, yet St-Pierre still seems to want his showdown with "The Count," perhaps because he thinks he's an easily beatable champion.
Perhaps he should have forced the issue of his return more forcefully after hinting at it for more than three-and-a-half years.