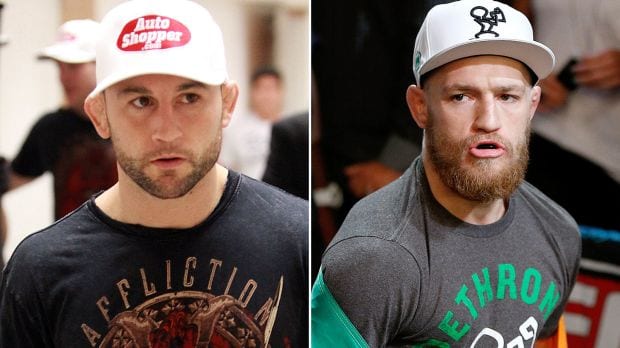 No. 2-ranked featherweight Frankie Edgar thought he had a title shot locked up when he blasted Chad Mendes with a first round knockout at last Friday's The Ultimate Fighter (TUF) 22 Finale from Las Vegas, but things got quite a bit more complicated when Conor McGregor became champion by knocking out Jose Aldo in the main event of last Saturday's (December 12, 2015) UFC 194 from the MGM Grand Garden Arena.
With five straight wins, it was next to impossible to insist that 'The Answer' wasn't deserving of a title shot, but UFC President Dana White muddied the possibility of that dream match by stating the 'The Notorious' was possibly headed up to lightweight for an immediate title shot against the winner of this weekend's (Sat., December 19, 2015) UFC on FOX 17 main event between Rafael dos Anjos and Donald Cerrone.
The title picture became even less clear when Aldo not surprisingly called for an immediate rematch with McGregor after he was knocked out with a single punch in a 13-second fight. Knowing he could be bafflingly passed over yet again, that has Edgar at his wit's end concerning his long overdue title shot.
He spoke up on his Facebook page with a message for McGregor, prying him to stay at featherweight for one last fight and adding a bit of a barb in the fact that people on social media had suggested that 'The Answer's' nonstop pace and wrestling could potentially be the kryptonite to the Superman McGregor has become:
There is a great chance that there is some truth to Edgar's statement here, as Mendes was doing quite well against McGregor in the wrestling department on short notice at this July's UFC 189 before badly gassing out and getting destroyed in the second round. Edgar thoroughly handled Mendes as mentioned, and while MMA math can't be counted on with any degree of reliability, there are some very interesting talking points that might suggest Edgar is indeed the featherweight who would give McGregor his toughest fight.
But in truth, that may not be in the UFC's best interest, as it's clear that McGregor is a generational star who will be banked on to provide huge pay-per-view buyrates for years to come. If Edgar were to grind him out with a workmanlike victory as many believe, much of that luster would be lost in the very first bout where he held the title.
Indeed, a more casual fan-friendly striking war with a fighter like Cerrone would sell much better and probably be more exciting, so much of Edgar's title chances rest on what happens in this weekend's main event.
Edgar might not get the title fight he deserves next, but either way; the possibilities are exciting for McGregor's future. We could even see Edgar rematching Aldo for the vacant featherweight belt if McGregor did decide to move up to 155 pounds.
The future is unknown, and the next bout for 'The Notorious' will be a huge on no matter whom it's against.
Who do you think McGregor should fight next? Should it be Edgar, Cerrone, or someone else? Cast your vote in our poll to let your voice be heard.
If you enjoyed this story, please share it on social media!