Frank Mir Knocks Todd Duffee Out Cold In San Diego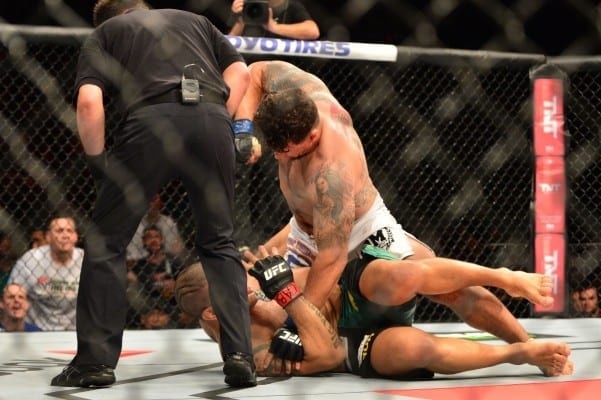 After snapping a four-fight skid when he knocked out Antonio "Big Foot" Silva back in February, former Ultimate Fighting Championship (UFC) heavyweight title holder Frank Mir (18-9) wanted to show that he is indeed back at UFC Fight Night 71 from the Valley View Casino Center in San Diego. Standing in his way was American Top Team (ATT) member Todd Duffee (9-3).
Mir has faced a bevy of well known mixed martial arts heavyweights. Some of the 265-pound bruisers he has faced include Brock Lesnar, Daniel Cormier, Tim Sylvia, Antonio Rodrigo Nogueira, and many more.
Duffee hasn't faced as much stiff competition, but his stock was rising. After suffering knockout losses to Mike Russow and Alistair Overeem, Duffee looked to have turned a corner. With three straight knockout victories, Duffee felt now was the perfect time to take on a former UFC champion.
Going into the fight, many thought Duffee would have the advantage standing. If you were to pick Mir to win this fight, you probably would've thought a submission was the most likely scenario.
Well that didn't happen.
The two combatants engaged at the center of the Octagon. Mir landed some punches and a knee. A huge left hook stunned Duffee. Mir landed a knee and it even left him off balance. Duffee whiffed a huge punch and Mir countered with a thunderous left hand to the jaw, knocking him out cold.
Final Result: Frank Mir def. Todd Duffee via KO (Punch) – Round 1, 1:13