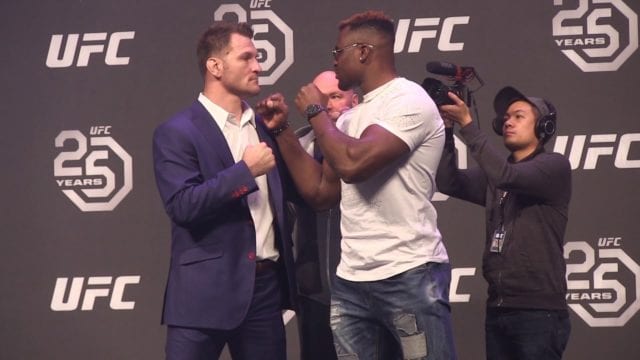 Francis Ngannou is already looking at a rematch with Stipe Miocic despite his upcoming fight against Derrick Lewis.
The UFC has already confirmed that Lewis would fight the former title contender at the upcoming UFC 226 pay-per-view event. Ngannou is attempting to build off his latest lost coming into this fight.
As seen at the UFC 220 PPV (pay-per-view) event at TD Garden in Boston, Massachusetts on pay-per-view, UFC heavyweight champion Stipe Miocic successfully retained his title in the main event by scoring a dominant decision win over the title contender.
Ngannou was gassed after the first round and lost in a lopsided fashion. Following the fight, Ngannou made it known that this fight was a major learning experience for him.
During the UFC 226 media day earlier this week, Ngannou admitted that he messed up in his latest bout but vowed to make changes in order to get a rematch against Miocic for the title.
"When he [Lewis] started to talk, I tried to reply, but I realized that a lot of things don't make sense," Ngannou said. "I won't be silly, so I stopped. I let him do his thing. Maybe it's his personality. But the guy, by himself, I don't know him. We never know what is behind a fighter until we meet. Sometimes it's just about business." (Transcription by MMAjunkie)

"OK, I'm another big guy. Instead of going forward, we will be smarter and go back to the Francis before the last fight. Watch my opponent, leave it, come to me, and as soon as he gives me the opportunity, I take it."

"I want both, I want the title, and I want the rematch against Stipe." Ngannou said. "Doesn't matter what happens. I want to fix this."