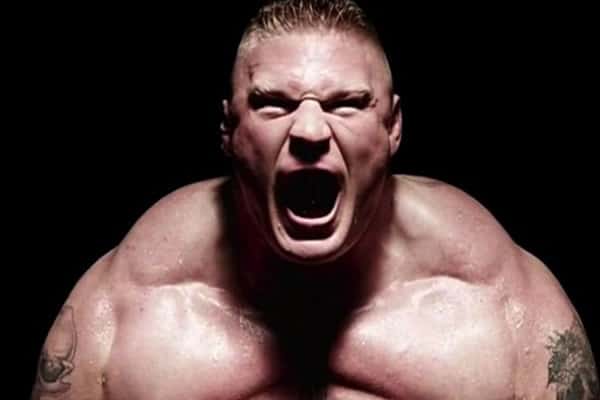 Former UFC heavyweight champ Brock Lesnar's UFC return is all but a formality – if he can pass series of stringent drug tests, that is.
After the WWE star returned to the UFC in an over-the-top, circus-like affair following Daniel Cormier's first-round knockout win over Stipe Miocic in the main event of last weekend's (Sat., July 7, 2018) UFC 226 from Las Vegas, USADA recently revealed the earliest date Lesnar can return to MMA – next January.
With "The Beast" still serving a roughly six-month suspension from his failed tests for clomiphene during his 2016 return at UFC 200 in a victory over Mark Hunt that was overturned to a no contest, Lesnar has only just re-entered the testing pool. The UFC granted him a waiver of the normally mandatory four-month testing period for un-retiring fighters, and they looked incredibly bad for making a glaring exception for Lesnar only to see him fail.
So the heat is back on Brock, so to say, and it may be a tougher fight for him to pass all his required drug tests than his match against Cormier (yes, even though the early odds say Cormier will destroy him with ease). One former UFC champion doesn't believe he will be able to in order to cash in on arguably the least-deserved title shot in UFC history, as Lesnar hasn't won since 2010.
Dominick Cruz told the Scott & BR Show on 1090 AM in San Diego (via MMA News) that he absolutely thinks Lesnar is doping:
"Absolutely. One hundred percent," Cruz said. "If he makes it to the fight I'd be shocked. And I just mean that because USADA is the toughest anti-doping system there is on planet Earth, and that guy is absolutely doping. Period. No ifs, ands or buts about it. And he's not been in mixed martial arts, so of course he's been doing that stuff."
In fact, Cruz believes it so much, he'd be surprised if the hulking professional wrestler actually makes it to the fight:
"How they're going to get him to be clean on fight night is beyond me."
You'll be hard-pressed to find several fans who disagree with Cruz' opinion here, as Lesnar has long been suspected of PED use and has of course been officially busted in MMA now.
He'll be eligible to fight again on next January, but he'll be facing a full gauntlet of USADA tests required to return in the meantime. Is Cruz right in his assumption, or will Lesnar buck the odds and make it to fight night versus Cormier without incident?