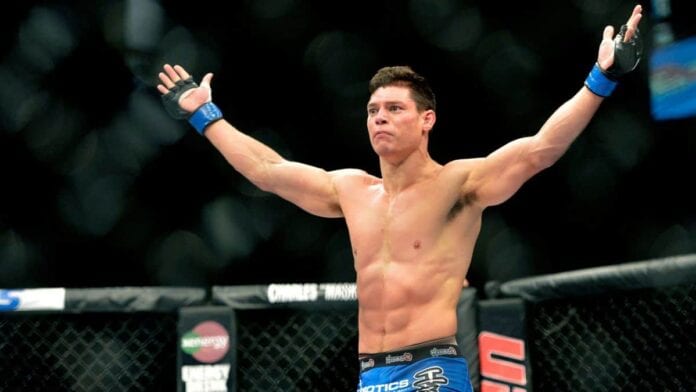 The UFC continues to add bouts to their upcoming UFC 192 pay-per-view event as they've added two more bouts today.
The promotion announced that former flyweight title challenger Chris Cariaso (17-7 MMA, 7-5 UFC) meets Sergio Pettis (12-2 MMA, 3-2 UFC), and Alan Jouban (12-3 MMA, 3-1 UFC) takes on Albert Tumenov (15-2 MMA, 3-1 UFC) in a welterweight bout at the event.
UFC officials confirmed the bout with the Houston Chronicle.
Chris Cariaso was sky-high prior to meeting Demetrious Johnson at UFC 178 for the flyweight title as he was on a three-fight winning streak. He lost to Johnson at the event by second-round kimura and then dropped his last bout to Henry Cejudo at UFC 185 by unanimous decision.
Sergio Pettis is 1-2 in his last three bouts as he beat Yaotzin Meza at UFC Fight Night 42 by unanimous decision and then Matt Hobar at UFC 181 the same way. He lost his next/last bout to Ryan Benoit at UFC 185 by second-round TKO.
UFC 192 takes place Saturday, October 3rd, 2015 at Houston's Toyota Center. The main card airs on pay-per-view (PPV) following prelims on FOX Sports 1 and UFC Fight Pass.
Alan Jouban is 4-1 in his last five bouts and is coming into this bout on a two-fight winning streak. He beat Richard Walsh at UFC 184 by first-round knockout and then beat Matt Dwyer at UFC Fight night 71 by unanimous decision.
Albert Tumenov is coming into this fight on a three-fight winning streak with wins over Anthony Lapsley, Matt Dwyer and Nico Musoke.
The latest UFC 192 card includes:
Champ Daniel Cormier vs. Alexander Gustafsson – for light heavyweight title
Ryan Bader vs. Rashad Evans
Shawn Jordan vs. Ruslan Magomedov
Daniel Hooker vs. Yair Rodriguez
Jessica Eye vs. Julianna Pena
Chris Cariaso vs. Sergio Pettis
Alan Jouban vs. Albert Tumenov