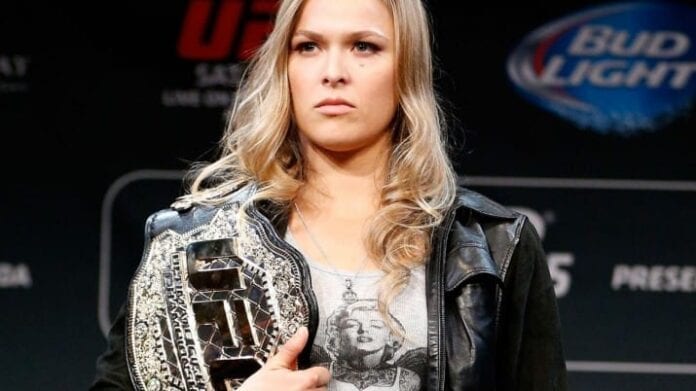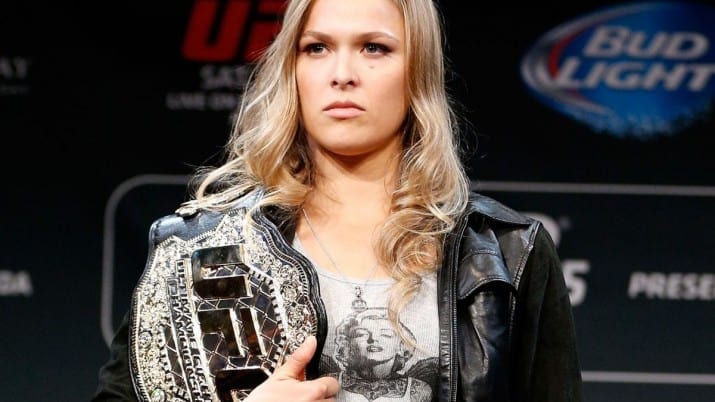 It's hardly a secret that women's bantamweight champion Ronda Rousey has become the UFC's biggest star in quite meteoric fashion, as she's risen to lofty heights never before reached by a mixed martial arts (MMA) fighter.
She's appeared in a growing list of high-profile Hollywood films, picked up lucrative endorsement deals with a another long list of high-profile companies, and reached a new, rapidly expanding contingent of fans that most likely wouldn't have cared about fighting were it not for 'Rowdy.'
But perhaps the most impressive thing she's accomplished is attaining the almost clear-cut role of the most dominant fighter in the UFC. She's simply rolled through every one of her opponents, finishing each one with a prime Anderson Silva-like mystique that has fans and media wondering if there's even any remote competition for her.
Of course there's the looming superfight with Cris 'Cyborg' Justino that's viewed as her only legitimate test, but even most are starting to side with Rousey if and when that elusive and anticipated match-up ever becomes a reality.
All of those factors may add up to a picture where it isn't all that hard to see Rousey leaving MMA behind as an undefeated and unblemished champion. Let's take a closer look at five reasons why.

5.) Lack of Competition:
The most obvious reason, at least on the surface, that Rousey may leave MMA with the belt is her lack of competition.
She's about to fight Miesha Tate for the third time (although one was in Strikeforce), signaling that she's essentially cleared out the division in just under two-and-a-half years. 'Rowdy' has run through her last four challengers Sara McMann, Alexis Davis, Cat Zingano, and Bethe Correia in a combined 130 total seconds, and there just aren't many contenders that you could legitimately say would do better.
Amanda Nunes can't be ruled out and yes, there are two strong rising prospects in Julianna Pena and Holly Holm, but would they really do better than say, Zingano or Davis? Maybe they would, but if they didn't, the UFC women's bantamweight division will soon turn into a barren wasteland.

4.) The Allure of Hollywood:
Another no-brainer, Rousey's blooming movie career and mainstream appeal overall could easily cause her to leave the grind of fighting for more far-reaching endeavors before she loses the belt.
She's earned mixed reviews for her acting but rave ones for her action scenes, and her upcoming roles in "Mile 22" with Mark Wahlberg and the biopic of her own life story could propel Rousey to all-new levels of superstardom.
With legit opportunities running thin in fighting, why wouldn't Rousey ride off into the sunset to earn far more lucrative paydays with her health intact, having bested all challengers put before her?

3.) Women's MMA Might Not Catch Up:
A big reason Rousey is so dominant is her lifelong background in judo, a sport where she ultimately won an Olympic medal.
She learned the art from an early age thanks to her accomplished judoka mother AnnMaria De Mars, and is lethal in her expertise of her famous armbar.
While she never really trained in the striking arts before fighting in MMA, it's plain to see that her athletic prowess, commitment to getting better, and naturally engrained skills have lead her to becoming an absolutely lethal all-around fighter in record time.
The other fighters, while still very talented and hard working, simply haven't had that lifetime of high-level training where their lives literally revolved around competition. That gives Rousey a huge, monstrous leg up on her competition, and it's one that they might not ever be able to overcome, especially with 'Rowdy' improving exponentially.
2.) At Some Point, There Won't Be Anything Left To Accomplish:
Similar to her lack of competition, there's just not many accolades that will be left for Rousey to accomplish if she beats Tate and then moves on to beat Nunes and Pena in successive bouts.
At that point, she'll probably be regarded as the best MMA fighter of all-time (or at least near the top of the discussion), and certainly a win over Holm at that point won't push her over the top into the role of G.O.A.T.; that is, unless 'The Preacher's Daughter' becomes the killer we'd all thought she'd be soon.
Sure, she could continue racking up huge pay-per-view (PPV) numbers by demolishing undeserving fighter after undeserving fighter because there's no one left, but those females aren't going to beat her if we're being honest.
No, the only thing that is truly left for Rousey to accomplish in MMA is to beat the one fighter that could conceivably push her to her limits, which brings us to the next (and perhaps most unfortunate) reason that Rousey will leave fighting behind with the belt…

1.) The Fight With 'Cyborg' Just Might Not Happen:
While Rousey vs. 'Cyborg' might be the most anticipated fight in MMA right now, the talk is beginning (or already has been for a while, depending on your point of view) stale.
With Rousey unrelenting in her stance that she'll never meet 'Cyborg' at 145 pounds or even 140 pounds, it appears that the only way it will somehow happen is if the Brazilian slugger sucks it up, gives up her massive size advantage, and make bantamweight while retaining some of the fight-ending power that she's known for.
That's a tall order, and given 'Cyborg's' endless trash talk and back-and-forth wavering on the issue, it doesn't appear like she's committed to making the weight as of now. She's more concerned with calling out Rousey and attempting to goad her into a bout at a larger weight, but with 'Rowdy' focused on 'Cyborg's' prior drug test failure for steroids, we're simply at an impasse.
So this potentially great throwdown is quickly turning into MMA's version of Mayweather vs. Pacquiao, and there isn't any reason other than proving beyond a shadow of a doubt that she's unstoppable for Rousey to move up to face the much larger 'Cyborg.'
And that, fight fans, could be the main reason why we see Rousey retire from MMA and the UFC as champion; perhaps as the greatest one the octagon has ever seen in the eyes of many.