Mixed martial arts is a hit or miss sport in a way. On paper, a certain matchup may be deemed the fight of the year, the fight you can't miss etc. However, it may turn out to be a total sleeper that has you questioning why you just dropped fifty dollars of your hard earned money on the pay-per-view (PPV).
On the contrary, a fight between two unknown fighters could provide for a clash of the ages, a fight that every fight fan should see.
That being said, let's take a look back at five classic fights. Five fights that show what MMA is all about, and five fights that should be able to turn a non-fight fan into a fanatic: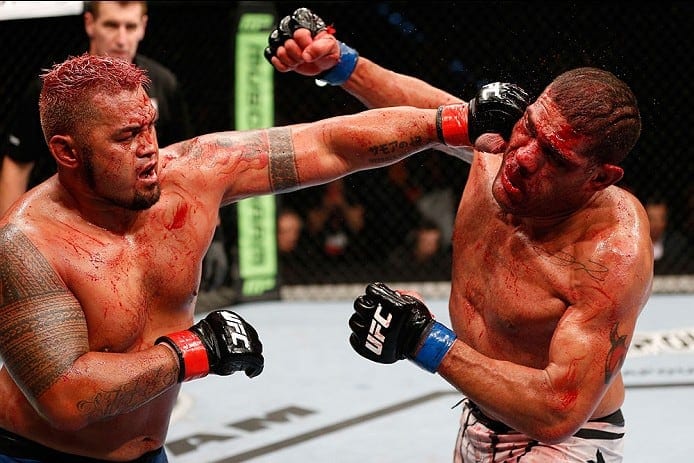 Mark Hunt vs. Antonio Silva – UFC Fight Night 33
UFC Fight Night 33 went down on December 7, 2013 from down under in Brisbane, Queensland, Australia, and it was headlined by an intriguing stylistic matchup between heavyweight sluggers Mark Hunt and Antonio "Big Foot" Silva.
With a combined 21 knockouts in 29 victories, fans were expecting a solid affair from the two men, but nobody had expected what was in store for us.
The two veterans came out and left everything they had inside of the Octagon. Both were rocked, and dropped numerous times, with the fight almost being finished on multiple occasions.
At one point, "The Super Samoan" looked to be on the verge of victory, and before you knew it, "Big Foot" would strike back. Ultimately, both men would slug it out back and forth for five rounds in a bloody showdown that saw both men barely standing by the end of it.
It was so closely contested that the fight actually ended in a majority draw with no winner. Although the action was slightly plagued by the fact that Silva would fail a drug test for elevated levels of testosterone, it remains as one of the greatest heavyweight showdowns in UFC history.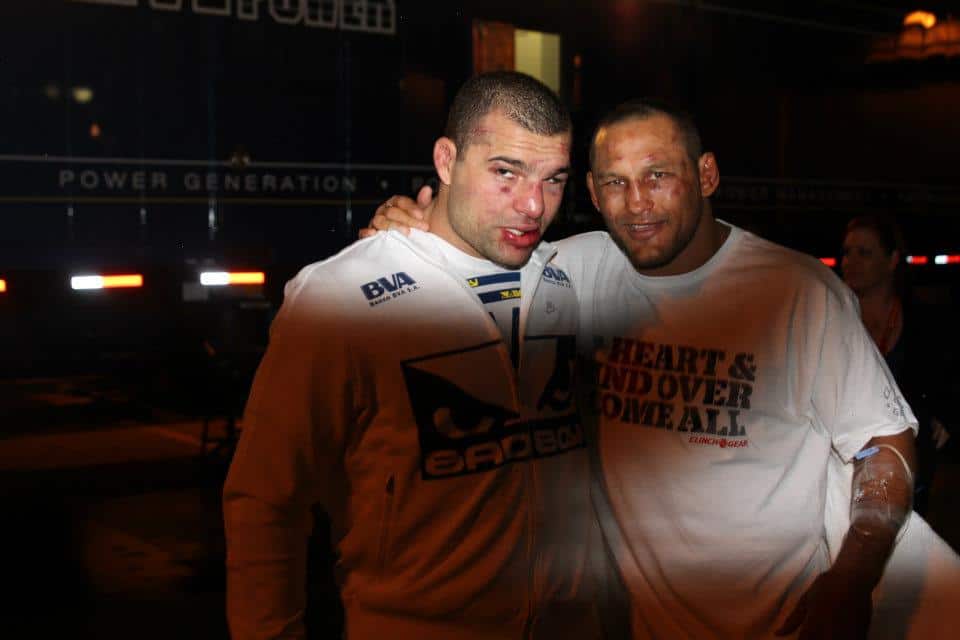 Mauricio "Shogun" Rua vs. Dan Henderson – UFC 139
As two legends of the sport, Mauricio "Shogun" Rua and Dan Henderson would meet in the main event of UFC 139 back in 2011 and put on a fight for the ages.
The former Olympian got to work right away, busting Rua up, and almost securing a finish early on, but "Shogun" would battle back, and actually drop "Hendo" to close out an action packed opening frame.
Henderson would continue to land some huge bombs in the second, leaving fans wondering how Rua was still standing, but we all know that "Shogun" is a true warrior at heart, and he would head into the third battered and bruised.
"Shogun" would eat a brutal shot mid-third round that saw him all but finished on the ground. He was somehow able to stay alive, and the two would continue to sling heavy leather, with Rua actually ending the round landing a few blows of his own.
"Hendo" seemed to be close to another finish in the fourth, but somehow, someway a deformed Brazilian would battle back and take over the end of the round, landing heavy shots on the feet against a tiring Henderson.
Rua would then end the round on top, dropping some brutal ground and pound on the former Olympian.
The tides had completely turned, as a rejuvenated "Shogun" would take over the final frame, spending nearly the whole round on top just pounding away with devastating shots. However, Henderson ultimately walked away with a unanimous decision win in an absolutely insane five-round war.
Forrest Griffin vs. Stephan Bonnar – The Ultimate Fighter 1 Finale
This fight needs little explanation, as it's simply a bout that every fight fan should see. Light heavyweight legends Stephan Bonnar and Forrest Griffin squared off nearly a decade ago at The Ultimate Fighter 1 Finale on April 9, 2005 in a fight that would put MMA on the map forever.
Although it was only three rounds, each man laid it on the line, and the matchup packed everything that's loved about MMA into a back and forth, bloody 15-minute fight that will be remembered forever.
If asked about the most influential or most impactful fight in sport history, Griffin vs. Bonnar is likely to be a common answer. Do yourself a favor and tune in to this work of art.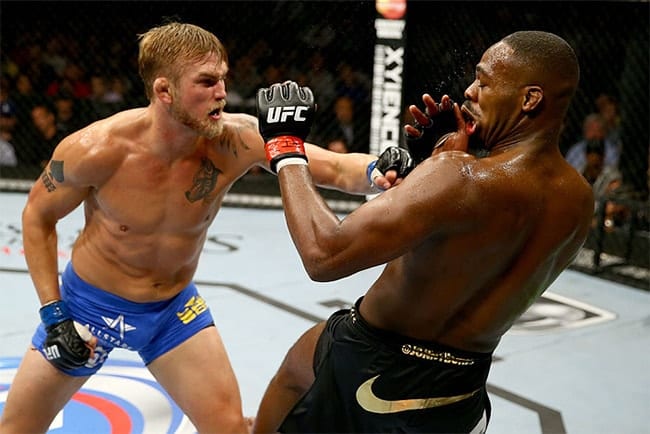 Jon Jones vs. Alexander Gustafsson – UFC 165
Alexander "The Mauler" Gustafsson had nothing to lose heading into his 2013 UFC title bout with former champion Jon "Bones" Jones, a man many consider to be amongst the greatest fighters to have ever graced the canvas.
Gustafsson was a relative unknown, but that would quickly change as he got to work right away, picking Jones apart, and even bloodying up the ex-champ. "The Mauler" would become the first man to score a takedown on "Bones", while stuffing takedown after takedown in the process.
The fight would be fought mostly on the feet, and after being heavily contested for three rounds, it was Jones that would take over the championship rounds, throwing everything but the kitchen sink at his Swedish opponent.
Over five rounds, the two put on not only one of the greatest light heavyweight title fights of all time, but one of the greatest fights of all-time period. "Bones" would walk away with his title in what was surely a dog fight, and an extremely entertaining one at that.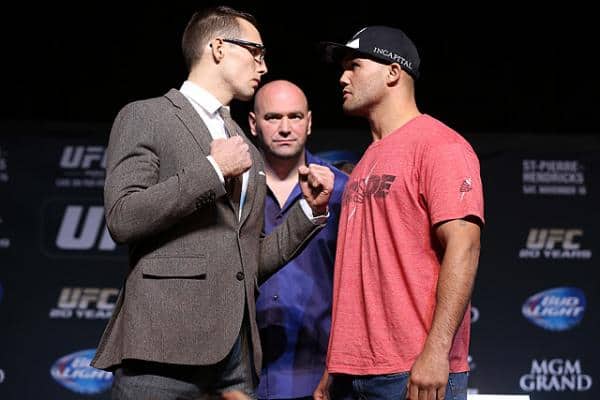 Robbie Lawler vs. Rory MacDonald 2 – UFC 189
UFC 189, which went down on July 11, 2015, was the Conor McGregor show. McGregor would take on Chad Mendes in the main event in an Irish-packed arena, but it was actually the co-main event that stole the show.
In the co-main event, reigning welterweight champion "Ruthless" Robbie Lawler would put his title on the line in a rematch against Rory "Red King" MacDonald. The first go around was a solid back and forth fight, but the rematch would turn out to be arguably the greatest fight of all-time.
Early on, the two combatants traded shots, with each man landing, but it was MacDonald who had Lawler on wobbly legs after landing a brutal head kick in the middle of the contest. A battered champion would barely survive the round, stumbling back to his corner.
However, Lawler would prove just how "Ruthless" he was, landing a vicious left hand in the final frame that would shatter the nose of the Canadian and ultimately shut the lights off for MacDonald.
Both men would leave the Octagon battered, bloody, and broken, probably not even realizing that they had just taken part in one for the history books.
What other classic fights do you remember?