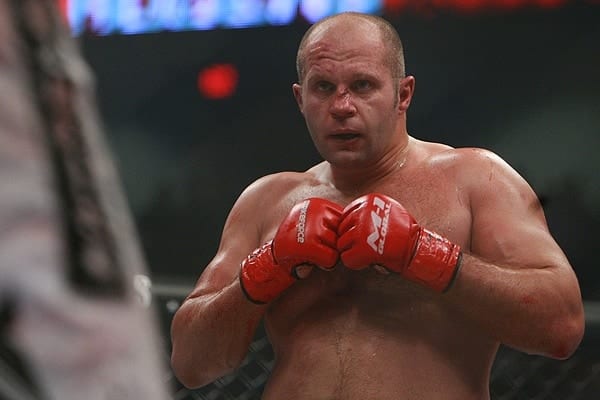 After months of speculation of which promotion Fedor Emelianenko would sign with, it was revealed on Saturday, September 19th, 2015 during the Bellator Dynamite 1 show.
It was announced during the show that Fedor Emelianenko will return to action on the New Year's Eve card in Japan. Nobuyuki Sakakibara, the man who once headed PRIDE before the promotion sold to the UFC in 2007, is planning a comeback this year and his first event will be on New Year's Eve.
This will be a joint event between the new promotion and Bellator MMA. Here's the blockbuster announcement:
Fedor then came out to join Sakakibara and Scott Coker in the cage:
Emelianenko hasn't fought since October 7th, 2011, which was when he announced his retirement following a first-round knockout of Pedro Rizzo.
Emelianenko is 3-3 in his last six, but after a three-fight losing streak in his last three Strikeforce appearances, he ripped off three straight wins. In his last two bouts, he won by first-round knockout over less quality opponents.
At 38-years of age, Emelianenko is back for another stint in his legendary career.