Exclusive: Bellator CEO Bjorn Rebney Says He'll Give Displaced Female Strikeforce Fighters a Home if Zuffa Decides to Axe Women's MMA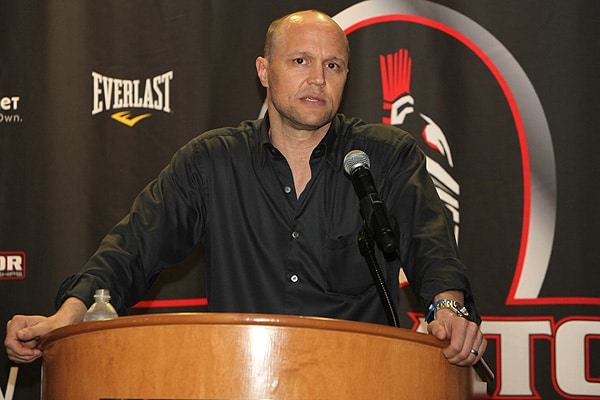 ("Give me your fired, your poor, your troubled Diazes yearning for THC, blacklisted fighters you don't want any more…")
When the news dropped last month that the UFC had bought Strikeforce, one of the least talked about stories was where would the move leave Strikeforce's contracted female fighters, should Zuffa decide to cease promoting women's MMA. UFC president Dana White has long been a vocal opponent of having women fight for him as there aren't, in his opinion, enough top female fighters to make it a worthwhile endeavor.
In spite of White's proclamation that both companies would be running "business as usual," after the purchase, there have already been a significant number of changes to the company that have fans, fighters and pundits are left wondering if Strikeforce's fighting females have a secure future with their new employer.
During an appearance she made on The Bum Rush Radio Show a week prior to the purchase, Strikeforce women's welterweight champion Marloes Coenen had the following to say about the organization when it was still owned by Scott Coker, one of female MMA's biggest boosters:
"If you're a female fighter there's only one organization you want to fight for and it's Strikeforce. At the moment, they're the leading organization worldwide [for women's MMA], so it's quite simple. If you're not with Strikeforce, you're nowhere."
Now fighters like Coenen, Cristiane "Cyborg" Santos, Gina Carano, Sarah Kaufman and Meisha Tate are all stuck in a state of limbo wondering if (and if so, when) they will fight for Strikeforce, and if the promotion is absorbed by the UFC, like the WFA, the WEC and PRIDE were before it, if they'll ever be welcomed into the Octagon by White.
Well, the ladies can rest easy knowing that they will have a home if things go south with Strikeforce.
We spoke to Bjorn Rebney recently about the possibilty of picking up the displaced Strikeforce female fighters should they be dropped by the promotion and the Bellator CEO said that he would definitely be open to working with them if they find themselves unemployed.
"We have a great foundation in place with hugely talented female fighters, so the interest in continuing to promote and market the women's game is surely there. But as it relates to the women who are under Strikeforce long and short-term contracts, we'll just have to wait and see what happens," he says. "If they end up as free agents because Zuffa continues to not market and promote women's fights, without question that would be of interest to us. There are some hugely talented ladies who are fighting, were fighting or may be fighting under that banner in the future."
Rebney, who feels that by Strikeforce combining forces with the UFC to form a conglomerate of sorts, his promotion has definitively taken over as the number two promotion, says that, like everyone else that is wondering what will happen to the California-based operation, Bellator will just have to wait and see how things play out in the short and long term.
"Nobody knows at this point whether or not Zuffa is going to keep promoting women's MMA.  At this point, all the women who were contracted to Strikeforce are still contracted to Strikeforce because they're still in operation until they're no longer in operation," Rebney explains. "I don't know at this point what's going to happen, but I can say that there are some tremendously talented women who have, kind of in an on-again-off-again structure fought for Strikeforce. We've had some great success and some great luck with women's fights with fighters like Megumi Fujii, Zoila Frausto, Rosi Sexton, Jessica Aguilar and others."